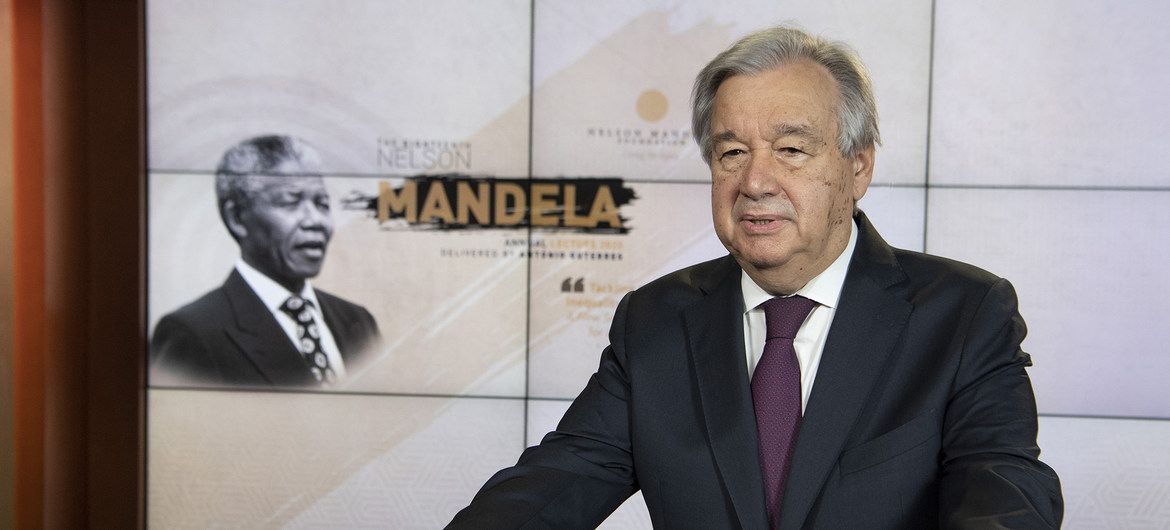 #7 The G|O Briefing, July 24, 2020
António Guterres Finally Lets Loose
Subscribe
This is an onsite, slightly edited republication of the complete G|O Briefing newsletter
---
António Guterres Finally Lets Loose
It was the speech that had been expected for a while, and that is seen by many observers here as the "liberation" of the UN Secretary-General.
António Guterres used Nelson Mandela Day last Saturday (July 18, 2020) to deliver a forceful address. This time, the man who has so far tended to prefer quiet diplomacy (criticized as weakness and silence on issues like human rights, or approvingly described as 'pulling punches' to concentrate on strong messages behind the scenes—see our profile for more) had a message that was loud and clear … and confrontational:  
"COVID-19 has been likened to an X-ray, revealing fractures in the fragile skeleton of the societies we have built. It is exposing fallacies and falsehoods everywhere
The lie that free markets can deliver healthcare for all
The fiction that unpaid care work is not work
The delusion that we live in a post-racist world
The myth that we are all in the same boat. Because while we are all floating on the same sea, it's clear that some of us are in superyachts while others are clinging to the floating debris.
Dear friends, inequality defines our time."…Let's face facts. The global political and economic systems are not delivering on critical global public goods: public health, climate action, sustainable development, peace."
Sure, there was some meaningless padding in there, too: "The response to the pandemic … must be based on a New Social Contract and a Global New Deal that create equal opportunities for all, and respect the rights and freedoms of all." "The worldwide consultation process around the 75th anniversary of the United Nations has made clear that people want a global governance system that delivers for them."
But broadly speaking, Guterres did not pull his punches. He called the risk for "economies that were colonized… of getting locked into the production of raw material and low-tech goods" a "new form of colonialism." And stated clearly: "Inequality starts at the top: in global institutions. Addressing inequality must start by reforming them." "The composition and voting rights in the United Nations Security Council and the boards of the Bretton Woods system are a case in point." African countries are certainly under-represented in post-Second World War International Institutions.
Now, whether addressing that representativity actually amounts to "a new model for global governance" (rather than redesigning the system into a new model) is questionable. It's nevertheless an urgent imperative.  While it was US-based multilateral institutions that were firmly in Guterres' sights (New York's UN Security Council and Washington D.C.-based World Bank and IMF), could the WTO (not part of the UN system, but still a leading multilateral organization) be part of that shift and elect a first African head?
Hustings are still underway in the race for a new Director-General, and we will have more on this in the next few weeks. There are two ways of seeing Guterres' positioning. Either the former Socialist Portuguese minister has changed his lifelong approach and is going out on a limb, or he understands that there is now a broad consensus within the UN and within a critical mass of states for meaningful change in multilateral governance. If it is the second, there may be a chance at structural change. "COVID-19 is a human tragedy. But it has also created a generational opportunity." Whether he is able to translate that opportunity into change or into a second term, it now appears clear that the Secretary-General wants to go down on "the right side of history."
-PHM