António Guterres' risky balancing act
Subscribe
---
Will the UN Secretary General's quiet diplomacy lead to a stronger UN or deepen its current crisis?
A new global power play is at work at the UN Security Council in New York and is now moving in not-so-subtle and unquiet ways to Geneva and its UN specialized agencies. As the US actively disengages from the multilateral system, threatening the UN and pushing for reforms without committing to further engagements, a vacuum is opening up at the core of the United Nations. China is moving in to fill the gap, increasing its contributions to advance its interests. The UN is facing unprecedented threats; it is currently unable to fund its operating budget, straining its staff and putting a question mark next to its leadership role.
Enter António Guterres, UN Secretary-General. Nearly at the end of the first three of his five-year mandate, Guterres' performance at the head of an embattled UN remains the subject of much anxious debate. For his supporters, his 'quiet diplomacy' is exactly what is needed in such turbulent times. For his critics, quiet diplomacy means not speaking out and denouncing major human rights violations, further weakening the UN system.
The Geneva Observer has decided to delve deeper into those diverging opinions. This piece is based on more than a dozen interviews with former and current UNHCR and UN top officials, diplomats, and UN observers, based in Geneva and in New York.
2016: Unanimity at the Security Council
António Manuel de Oliveira Guterres was unanimously nominated to the post of UN Secretary-General by the Security Council on October 6, 2016.
For Samantha Power, former US ambassador to the UN: "In the end, there was just a candidate whose experience, vision, and versatility across a range of areas proved compelling. […] People united around a person who impressed throughout the process." Guterres — who, despite his "experience, vision, and versatility," gets only a single mention and a footnote in Power's recently published memoirs, The Education of An Idealist — defeated nine other candidates, seven of them women, to get the job. Of all the candidates, he was the only one who secured the backing of the P-5, the permanent members of the Security Council. "I was not the least surprised when I heard the news," remembers a retired senior UNHCR official in Geneva who worked with Guterres. "He's extremely ambitious and articulate. I wouldn't say he is charismatic, but he can work a room like only a politician can."
All who have seen him at work, supporters and critics alike, agree that his modus operandi and politician's instincts will either be the key to his success or his undoing.
Geneva is not New York: the diplomatic and social circuits are significantly tighter. It is not unusual to see the same people three times a week at official functions or special events. Having spent ten years as High Commissioner for Refugees between 2005 and 2015, Antonio Guterres is a popular figure in Geneva. Before he departed for New York, he lived in town and frequented the opera. The city had always been friendly to the Portuguese diaspora during Salazar's dictatorship. Guterres himself cut his teeth in Portuguese politics right after the "Carnation Revolution" of 1974, which was largely orchestrated by political activists who used to gather in a local Geneva brasserie, the Landolt, whose existence is now only remembered with a plaque. So, when he announced his candidacy to succeed Ban Ki-Moon, there was palpable pride in International Geneva's milieu that "one of ours" was in the running. Again, as had been the case with Kofi Annan, who had studied at The Graduate Institute and retired here after his work at the UN, a "friend of Geneva" might get the top job.
The human rights defenders' disappointment
By all accounts, Guterres had been efficient at streamlining the UNHCR and in steering it through the worst humanitarian crisis of the last 50 years, when millions of Syrians sought refuge from their war-torn country. 2015 saw the height of that crisis. Almost a month to the day António Guterres was nominated, Donald Trump was elected president. For the first time since its creation, a president openly hostile to the UN would sit in the White House. Guterres would, once again, be at the head of an organization going through uncharted waters.
Today, the bulk of the criticism leveled at António Guterres centers on what some see as his refusal to denounce human rights abuses around the world forcefully. His detractors point to several instances when the head of the UN failed to criticize blatant abuses. Case in point, Turkey, was Guterres' first trip after his appointment to the top job. "He didn't utter a word about the more than 500 journalists or political prisoners held in jail. He didn't want to aggravate Erdogan because he was concerned about the fate of the Syrian refugees in Turkey. He was acting as if he was still running the UNHCR and took it upon himself to deal with a European problem, not a UN one. In the process, he started losing his credibility," complained a former top official at the UN Office in Geneva.
More recently, in April of this year, he addressed an assembly in Beijing to celebrate Xi Jinping's One Belt One Road Initiative, the symbol of China's growing influence. He publicly praised his hosts for China's economic performance and for its commitment to battling climate change. The million Uyghurs imprisoned by Beijing in so-called "educational centers" in Xinjiang province — described by some as de facto concentration camps — went unmentioned.
In a Washington Post Op-Ed piece in April, Kenneth Roth called António Gutteres' silence on human rights "troubling," writing: "UN Secretaries-General have all struggled with when to speak out, trying to balance their role as quiet mediators of disputes with the need to represent core UN values. Outspoken support for rights can close some diplomatic doors but keeping quiet leaves the perception that the United Nations is indifferent to atrocities, abandoning the victims while often undermining prospects for peace. Guterres has firmly sided with quiet diplomacy." Amnesty International recently renewed its call for a condemnation of the Chinese regime's practices. "In the words of Mr Guterres himself, human rights are universal regardless of race, beliefs or location. […] His quiet diplomacy is obviously not working." If he doesn't speak out, the NGO warned in a press release, "he will forever be remembered for failing hundreds of thousands of people in this crucial moment."
Presenting the results of her investigations into Jamil Kashoggi's assassination by the Saudi regime in its Consulate in Instanbul, Agnès Callamard, the UN special rapporteur on extra-judicial executions, called for an investigation into Mohamed Bin Salman's role in the journalist's murder. An investigation that António Guterres has never agreed to launch.
"This is simply not the way he operates," remarks a retired top UNHCR official, "he doesn't alienate people, as a politician, he always seeks a consensus to make sure he gets what he wants. This is an impossible job in an impossible situation. And to be honest, at this level, very few people have been vocal in their criticism when they were on the job. It's only after they have left that some of them start speaking out." According to one of the most astute observers of the Geneva diplomatic scene, himself a seasoned diplomat with a track record in human rights, public criticism can actually be counter-productive: "Look at Kofi Annan and his virulent attack against the war in Iraq in 2003. It didn't make the UN stronger because of its dependency on the US."

Informed sources in New York tell The Geneva Observer that the relationship between António Guterres and Zeid Ra'ad al Hussein, the former UN High Commissioner for Human Rights, soured significantly when Zeid started openly criticizing political leaders, including Trump. Aware that his mandate would not be extended, Zeid retired, saying he could not "bend the knee in supplication." Guterres replaced him with former Chilean President Michelle Bachelet, another practitioner of quiet diplomacy.
Some of his harshest critics concede that with strongmen and populists in power and committed to weakening the UN and the multilateral system, António Guterres has to resort to trade-offs if he doesn't want to run the risk of weakening the institution by alienating some of the UN's biggest contributors. "It is a constant balancing act. The question is, at what point do you lose your moral authority." Some would argue that has already happened. "Nobody listens anymore when he speaks," says a seasoned UN observer. Yet, of late, human rights defenders have seen encouraging signs. Sri Lankan soldiers suspected of war crimes have been barred from joining UN peacekeeping missions. And Guterres didn't hesitate to oppose Guatemala's President Jimmy Morales' attempts to kill the creation of an international commission of inquiry on impunity in his country.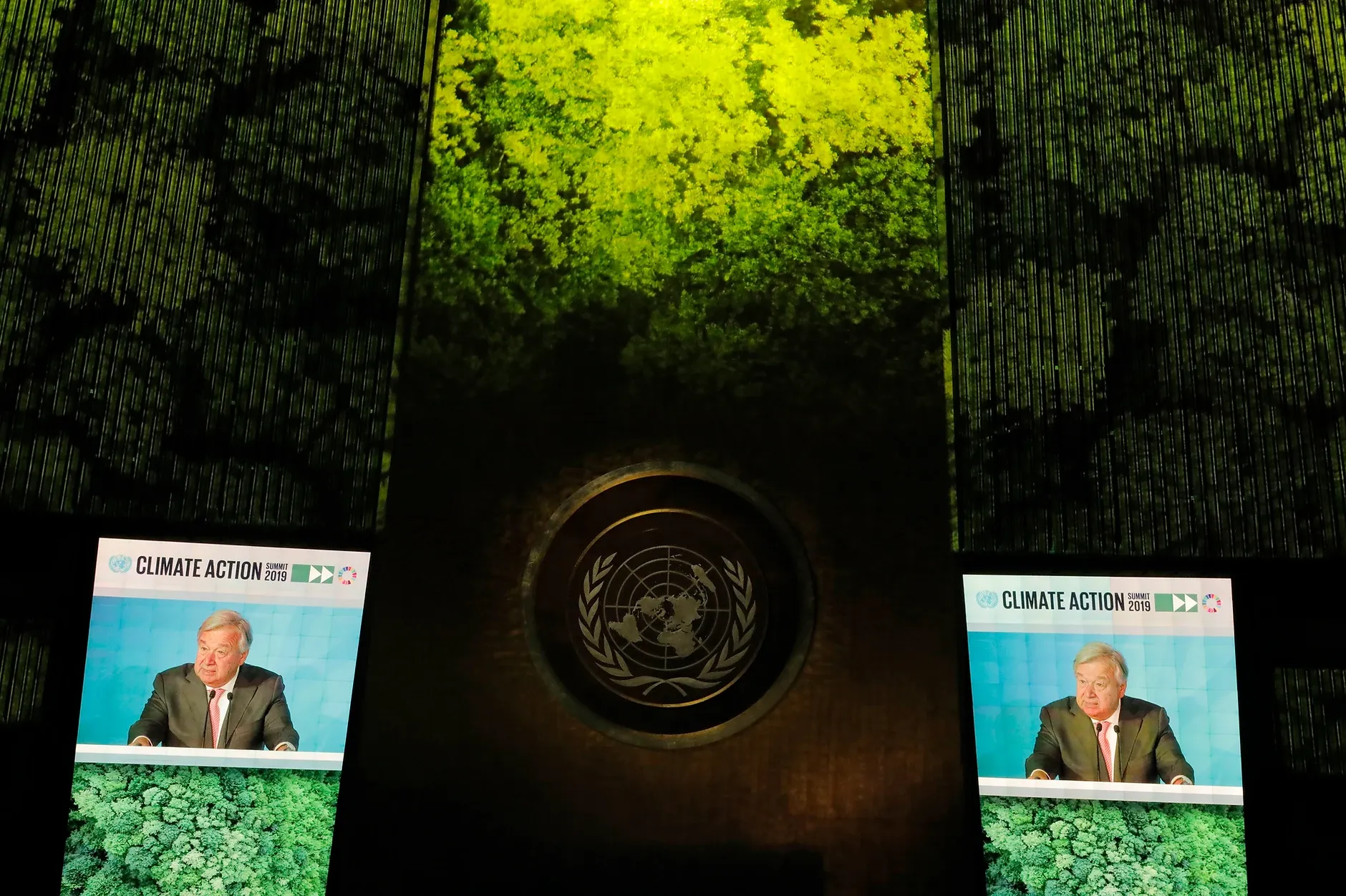 Strong leadership on climate change
Guterres' first term cannot be reduced, however, to the single issue of human rights. From his office on the 38th floor at the UN headquarters in New York, the Secretary-General has successfully maintained strong UN leadership in the fight against climate change, following the efforts of his predecessor, Ban Ki-moon, during the Paris Climate Conference of 2015. The former Portuguese Prime Minister does not shy away from speaking out on this subject in front of Member States. In Davos in January 2019, he warned: "We are losing the race against climate change". He has received praise for organizing the Climate Action Summit in New York last September, just a few months before the entry into force of the Paris Agreement. While the speech by the young climate activist Greta Thunberg during the summit was mocked by some as a desperate attempt to attract attention, others saw it as a very smart move, effectively maneuvering Member States into facing their responsibilities.
He also sees a renewed urgency to act on security and disarmament issues. Unveiled in Geneva in May of last year, Securing Our Common Future is his response to a new arms race that now includes China. "We are one mechanical, electronic or human error away from a catastrophe that could eradicate entire cities from the map," is how he put it in a speech at the time.

"António Guterres has not given up on his desire to remain a major political player on the world scene," says one of the most senior UN correspondents in New York. "As Prime Minister of Portugal, he successfully led the country during his two terms in office, including joining the euro." But he had the misfortune to accede to the top of the UN — the fourth European to do so — at a very critical moment. He had barely settled into his new office when Donald Trump decided to withdraw the United States from UNESCO and the Human Rights Council and to stop all financial assistance to UNRWA, the UN agency for Palestinian refugees.
The need to accommodate the UN's big contributors
The United States remains the leading financial contributor to the overall UN budget, providing 22% of the regular budget. It retains its veto right at the UN Security Council. No dossier can advance without its support. This is where Guterres' political instincts serve him well in what is an extremely difficult balancing act. To cut the UN off from the United States would imperil the organization and put its very survival into question. But as of October, sixty-four countries, including the United States, Brazil, Mexico, and Iran, are yet to pay their yearly financial contributions.
No wonder the Secretary-General invests a significant amount of his time in trying to improve his relationship with the US media and Congress. It remains a headache for him, although he is loath to admit it publicly. "Guterres spends much time in Washington in order to cultivate his relationships, especially with the Republicans in the Senate," explains a UN observer. While the Trump administration had plans to cut its contribution by 40%, Congress opposed it. Although Guterres was able to overcome the White House's opposition to the nomination of Michelle Bachelet as High Commissioner for Human Rights and of Huang Xia as the special envoy to the Great Lakes region, other nominations have been less successful. Guterres was forced to withdraw the nomination of former Palestinian prime minister Salam Fayyad as UN special envoy to Libya because of US opposition. At the time, Nikki Haley, then US ambassador to the UN, declared that the United Nations "has a bias in favor of the Palestinian Authority to the detriment of our allies in Israel."
The relationship between Guterres and a now deeply embattled Trump administration facing an impeachment inquiry remains complicated. With the exit of John Bolton, one of the US' most ardent critics of the UN, the pressure might not be as intense, but the unpredictability of Washington's foreign policy poses new challenges for António Guterres and the UN as a whole. The Trump administration has a dysfunctional foreign policy apparatus following the departure of a high number of career diplomats after the 2016 elections. Another opportunity for Beijing to fill a vacuum, as the recent episode of the nomination of a Chinese official to the head of the Food and Agricultural Organization in Rome shows.
Guterres has been hailed for his reformist policies. In the era of #MeToo, he has been applauded for imposing gender parity within his Cabinet staff. And while serving as High Commissioner for Refugees, he was lauded as a reformer, relocating certain activities to Budapest. "In a time of great difficulty, we have the best possible Secretary-General. He has been able to go farther than his predecessors," said one UN expert.
In Geneva, international civil servants regret that he is not more involved in the city where he resided for a decade. The Executive Secretary of the staff coordination council for the UN office in Geneva, Prisca Chaoui, is among the disappointed. "We are aware of the current geopolitical problems. However, we feel abandoned." Following a decision to reduce staff salaries by 5.2%, the administrative tribunal of the ILO canceled the cuts for some of the UN agencies' staff members, thus creating a salary discrepancy between different UN agencies. A petition signed by over 6000 UN employees has called for a correction. "We fear an end to the common system [for the salary scale]," notes Chaoui. She'll be in New York next week and has asked for a meeting. So far, António Guterres has refused to meet with the staff coordination council.
An unpopular paradigm shift
Grumbling is also perceptible within the specialized agencies. The Secretary-General's push to break up what he considers a "silo mentality" and a lack of cooperation between the agencies, has been met with some resistance. "True," says a European diplomat in New York, "his vision for reform in the development sector is a paradigm shift," particularly the establishment of "resident's coordinators" who should ensure the coherence of the agencies activities and guarantee that they don't deliver divergent messages. "He has the strong support of the UN General Assembly which gives him a real legitimacy to move forward."
Guterres has fielded his share of criticism. But could it have been any different? In announcing his nomination, the late Vitaly Churkin, Russia's ambassador to the UN in New York stressed that the members of the Security Council saw his political acumen as a major quality: "Guterres talks to everybody and listens to everybody."
"He operates by trade-offs," sums up one an ambassador based in Geneva. "I understand why he does it, but it's a risky game. By doing so, he runs the risk of losing the moral authority expected from a UN Secretary-General."
-PHM-SB
---