Think Before You Lock
The Global Detention Project: Into the global netherworld of migrant detention centers
---
For more than two decades, Michael Flynn has nurtured a persistent outrage that turned the former investigative reporter into an academic before compelling him to set up the Global Detention Project, an NGO.  Flynn's mission? To put it plainly, uncover what states and governments all around the world try to hide, namely how every day of every year, they deprive vast numbers of people of their liberty through their immigration detention practices. What Flynn and his team at the GDP highlight in their latest annual report is that "the world's leading liberal democracies continue to be captivated and motivated by the fear of a never-ending refugee and migration 'crisis.'" This has led "to the ineffable retreat of countries across the globe from their human rights obligations with respect to some of the planet's more vulnerable people." For the GDP, Europe's policies have become particularly questionable as they include "supporting migrant interdiction and detention in countries that are racked by violence, war, and lawlessness."
Increasingly, those people are children. According to the UN Global Study on Children Deprived of Liberty, "a minimum of between 1.3 and 1.5 million children are deprived of liberty per year. (…) The figures do not include the approximately 1 million children in police custody and an even higher number of children deprived of liberty de facto in institutions." The images of young children, some of them toddlers sleeping on the wet, dirty floors of cages on the American side of the US-Mexico border, published in 2018, have stayed with us. Such was the outcry that the Trump administration had to rescind the policy.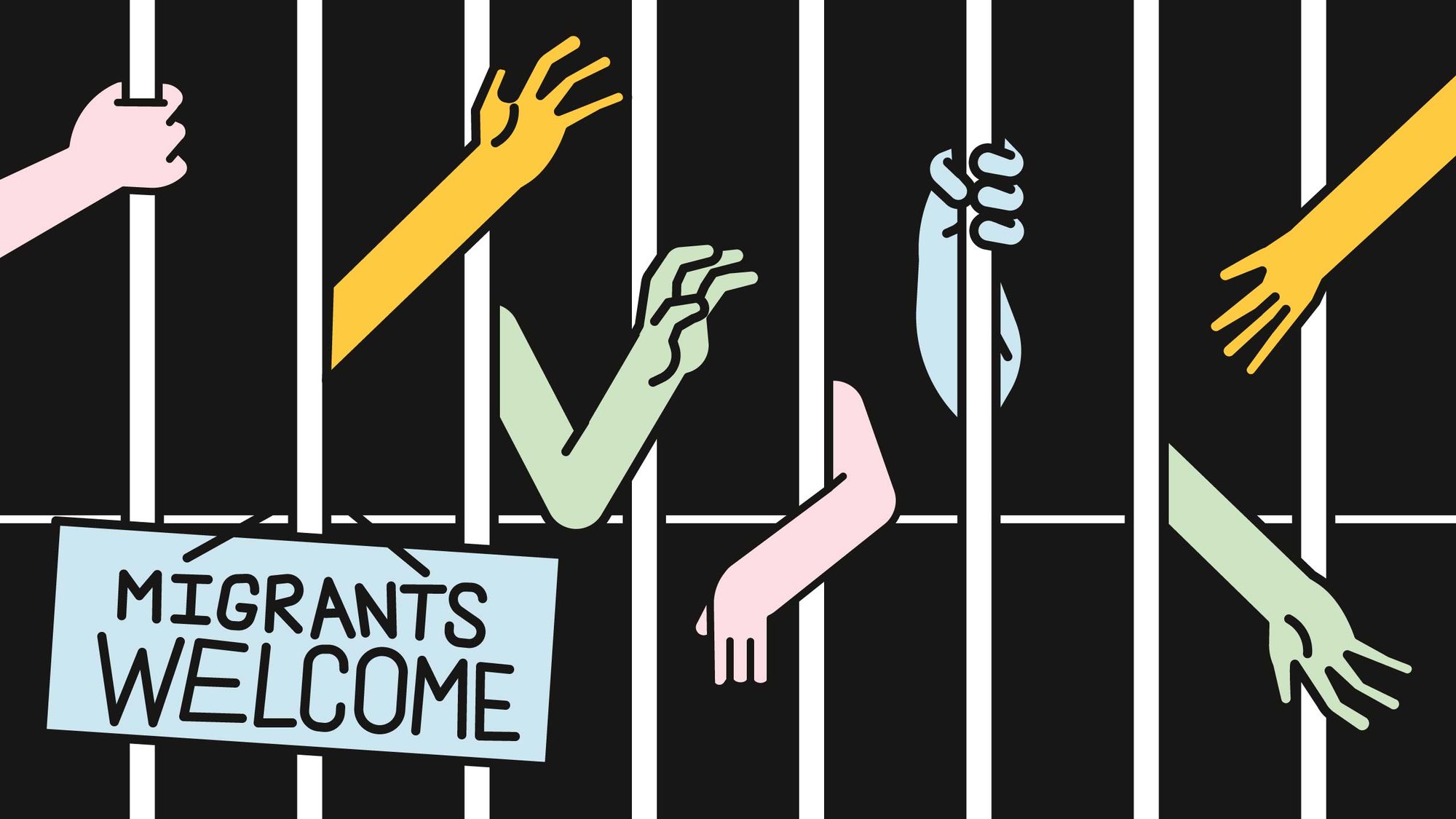 "A key reason the GDP was founded is that I was working as an investigative journalist, and one of my major stories was how, pre-9/11, I discovered that the US was already stopping migrants, asylum seekers, and refugees by pushing their border controls ever further south. Washington had established forward operating bases in places like Manta, Ecuador, whose ships hunted Soviet nuclear subs before shifting priorities post-Cold War to fighting the war on drugs and destroying migrant smuggling vessels. It was paying Guatemala to run dilapidated hotels to detain migrants coming from as far away as India." Flynn recently explained this history to me over Zoom while we were both still in self-isolation. He had found refuge in the deserted GDP's office near the Place des Nations. Having to juggle his work and teaching his twins at home every morning was proving difficult.

"Messing with migrants"
He published his initial investigations in—of all publications—the Bulletin of the Atomic Scientists, founded by Albert Einstein and Robert Oppenheimer in 1948, and home to the famous "Doomsday Clock." Flynn worked there for a while as an editor. One of those pieces, titled 'What's the Deal at Manta?' sits quietly on the GDP's website. "The United States said it would restrict its activities at Manta to anti-drug efforts, so why is it messing with migrants and more" reads its subtitle. "Messing with migrants" as he called it, then has become the unrelenting focus of his actions ever since.
A fit, intense, fast-talking American with piercing eyes, Flynn walks me through his intellectual and activist journey. "I realized that this was a big phenomenon, that there was a kind of policy transfer from the US to other countries, Australia for one. People are detained in some countries, but officials themselves sometimes don't know about the existence of those 'detention centers'. All this requires an infrastructure. It's financed. So, this became my Ph.D. subject. The first project was to develop an investigative unit to uncover and map the globe of detention centers. But we quickly realized that we first needed to answer some hard questions: What are detention centers? Where are they? And how do we, as academics, 'code' them? What are the indicators that tell us they are this thing and not that thing? We discovered that until the late 1980s, it was hard to find anything that you would call a detention center in most countries. Officials would use just anything, from warehouses to jails, from abandoned hotels to police stations, and whatnot. And then things started maturing, and gradually, this administrative immigration detention idea takes shape and starts developing its logic, which ironically was driven in part by efforts to protect the human rights of immigration detainees." Flynn explains how, for example, agencies like the Council of Europe's anti-torture committee have long pushed countries to build specialized immigration detention centers to protect the "rights" of migrants, but that this may have had the unintended consequence of spurring the growth of today's sprawling European detention system.  

State of exception

Those places, and the logic behind them, fit what Italian philosopher Giorgio Agamben calls "states of exception"; in this case, physical and conceptual, created by states in the name of security. States of exception share a characteristic: they quench our most fundamental rights. They operate at the margin of the law, under or sometimes above. Using loopholes and radical interpretations of the law, they generate their own rules and apparatus.
Fast forward. Michael Flynn and his team at the GDP have now put together the most comprehensive database of its kind, culled over the years from every imaginable source. They have rigorously "coded" the immigration detention system around the world, painstakingly building their repository from scratch and continually updating it. The GDP team has done it using every tool and resource available, from combing through public records to using transparency laws when available to obtain documents. It operates with a global network of partners, organizations, and individuals to determine the conditions on the ground in the facilities they have identified. Are families kept together? Are there children? How and by whom is the center operated? How safe is it?
A stadium in Aden (Yemen) is used as an "informal camp" operated by the Yemeni Police.
A nearby shopping center provides administrative services. The detention center at the Geneva Airport detains undocumented migrants for a period that can extend 20 days; it is ranked as "safe." Since the onset of the Covid-19 pandemic, the GDP has put up a section dedicated to the pandemic's impact in detention centers around the world. A report published yesterday, May 18, 2020, reads: "Migrants and asylum seekers in Morocco have reportedly been deported to the Algerian border and left in the desert. According to the NGO Caminando Fronteras, even though borders have been shut due to the Covid-19 pandemic, Morocco has deported more than 100 people, including children. A sub-Saharan migrant reported that he was left in Maghnia in Algeria during the night and that his passport was taken away by Moroccan police officers. He stated that he was obliged to walk 90 kilometers over six days without access to food or water."

Silence prevails
Around the globe, immigration has become one of the most charged political issues. Switzerland is no exception. As The Geneva Observer reported last fall, in a stunning diplomatic reversal, the Swiss government decided not to attend the Marrakech Conference of the Global Migration Compact. As one of the conference's principal sponsors, it became the subject of a vicious disinformation campaign led by the anti-immigration People's Party loosely associated with neo-Nazi-inspired groups in Austria and Germany. From the lens of their academic backgrounds, Flynn and his colleagues have created indicators that are neither politically nor ideologically tainted, a position that lends enormous authority to their work and makes their data-driven advocacy all the more impactful.
If he has called it a project rather than an observatory, or a center, it is because he sees it as a constantly evolving object. Having established its conceptual framework in academia, Flynn and his colleagues set their sights on another space, moving beyond theory into activism and advocacy.
"Having done this work, we started seeing how we could have an impact on a whole range of treaty bodies and other human rights mechanisms. We want to encourage adhesion to fundamental norms and reduce the gap between the detention regime as it exists now and international laws. We want to bring more transparency to the treatment of detainees. We are often asked by our partners, by states, or by other NGOs to provide them with 'best practices'. But we don't like to talk about 'best practices in immigration detention centers, as they inherently cause harm. However, we can raise awareness about the impact of detention, and the harm it inflicts on people. There is harm to their legal rights, there is physical and emotional harm, and so we can talk about harm-reducing strategies. We want to reinforce advocacy by providing civil society with better tools and collaborate with international organizations to get better reporting."
What can be learned from the Covid-19 crisis?

As he ponders the future of the GDP, Michael Flynn reverts to the secrecy and shame that surround the issue: "I think one of the reasons why most governments refuse to discuss their detention policies, do not collect data on their detention centers, is because liberal norms still hold today in many parts of the world. It is hard for a state to admit that you are locking people up and not charging them with a crime simply because they are migrants." And almost in the same sentence, he pivots to the Covid-19 crisis: "Have you seen how immigration detainees are in some places be released en masse, in Spain and elsewhere, because there is a health threat and no possibility to deport them? So, around the world, we have built this enormously expensive system to incarcerate large numbers of people. And all of a sudden, it serves no purpose. I think there are lessons to be learned from that." And with that, as our conversation concludes, he leaves me wondering what the Global Detention Project's next battle might be.
-PHM
---