How Geneva's private 'universities' are shamelessly exploiting the Global South
Subscribe
---
Aggressive marketing in developing countries and taking advantage of ambitious overseas students are the bread and butter of many local private schools.

Their targets? Southeast Asia, the Middle East, and Africa—despite the difficulties in obtaining Swiss visas for students from these regions. One struggling woman from Cameroon tells The Geneva Observer that a local school with branches in various countries never reimbursed her payment of 7000 CHF, after the Canton's immigration authorities refused to grant her entry.

Craig E. Klafter, who works for The National Association of Scholars in the US, has conducted extensive research on the global for-profit higher education market. He criticizes Switzerland's laissez-faire approach, which comes at the expense of its historically pristine academic reputation.
---
Diane Djeufang Hameni is a broken woman. From her home in Douala, Cameroon, she curses the school at the origin of her troubles: "Wesford University Geneva"—she spits the words out as if they were poison.

In 2011, Wesford's then director, Philippe Munoz, had personally assured her in writing that she would receive a visa once she had made an initial payment of 7000 CHF—the first installment of the 25,000 CHF tuition fee for a two-year Master's program. But the permission to come to Switzerland was never granted, and the money—a substantial amount in Cameroon—was never returned.

Diane's social and financial downfall was not destiny. Before enrolling at Wesford University, the young woman was a successful legal aid at a firm in her own country. When she spotted the school's Facebook advertisement for a study plan open to Cameroonian youth, back in 2011, she immediately saw an opportunity to climb the ranks. "I was already the first of my family to receive a university degree; a Master's in corporate law. My idea was to get an additional degree in Geneva and then apply for a manager position at a bank in Douala," she remembers. "My family scraped the money together to pay for my tuition. It was a group effort. They were investing in me because they believed in me. Now they are upset, and I have been unemployed for years."

Days after Diane's payment went through, the school sent her documents to fill out at the Swiss Embassy in Cameroon. "I waited seven months before I finally received a negative response," she says angrily. "I then sent the proof that I had been denied entry to Switzerland, but I was never reimbursed by Wesford. My calls and e-mails were ignored."

Alex Liénard, the school's current director, has not replied to our repeated requests for comment. It also appears that Wesford's administrative situation is shaky. When the staff returned to work from holidays in February 2020, they found the premises empty, having received no notification of any issues. Shortly after, Liénard transferred contracts over to his competitor, Djawed Sangdel, who owns Swiss UMEF University. Professors' hours and incomes were reduced to about 5% of what they had been previously. Wesford—which also has branches in France and Morocco—continues to answer calls and enroll students. French public records indicate that Liénard's company went bankrupt in 2018.
---
SULLYING THE SWISS BRAND
Like many other local for-profit higher education facilities, Wesford takes advantage of the underprivileged. How? By launching branches in developing countries and funding intensive marketing on social media or through billboard campaigns in targeted geographical zones, essentially Southeast Asia, the Middle East, and Africa.

Because of the country's lax higher education laws, Swiss private 'universities' are managed as corporate entities and abide by free-market laws. This is a legal loophole that has been compromising the Switzerland's long-running academic image for decades.

"Most Western countries regulate. Switzerland is pretty much the only one that does not practice some form of control over these private schools," highlights Craig E. Klafter, former rector of The American University of Myanmar and researcher at The National Association of Scholars.

The Florida-based scholar published a paper in 2018 titled 'International Student Recruitment Abuses', which focused on institutions launched in Myanmar before the military coup. According to the expert, the for-profit private education market is a bigger problem in Switzerland than elsewhere: "British universities are regulated by The Quality Assurance Agency for Higher Education. As for US universities, they have to answer to their institutional accreditors and relevant State authorities. Australia's private universities are regulated by their states and by the federal government, even though they are mostly operating in Southeast Asia. Though I am sympathetic with the notion of a free market, we are talking about the Swiss higher education brand here. The profit-driven private schools abroad are the face of higher education in Switzerland throughout the world. Swiss authorities are doing a major disservice to their quality institutions by allowing this to go on."

Federal accreditation organization Swissuniversities, the University of Geneva, and The Graduate Institute have not replied to our requests for comment.
---
TROUBLING INFORMATION ABOUT UBIS UNIVERSITY IN MYANMAR
In Myanmar, where Klafter initiated his investigations into academic malpractices, the problem is acute. Since the coup, most universities have closed. In the years prior to the military takeover, degrees were already a coveted commodity. "Students are desperate for high-quality education," notes Klafter. "Most businesses in Myanmar will hire someone with a foreign qualification over a student from a public university. The unemployment rates for young people are at about 50%. A number which is reduced to 20% with a Myanmar public university degree, and 5% with a foreign degree."

The programs come at a heavy price, however, and with reduced odds of success. "The average income in the country is about 3000 dollars a year," Klafter points out. "What the schools tend to do is charge the students per course—anywhere from 300 to 500 dollars. Most individuals who enroll never earn the degree they're aiming for. Also, students often lack sufficient English language skills to benefit from the courses. I have found that the average graduation rate of these schools in Myanmar is 8%. I do not doubt that similar numbers can be found in other places."

Amongst the abusive institutions uncovered by the expert in Myanmar is UBIS University, a private Geneva-based for-profit institution owned by Hamilton White Group, LLC, an American investment firm. "The school markets itself internationally, particularly in the least developed or developing countries, as Swiss excellence," says Klafter.

The issues at UBIS University—a partner of The Geneva School of Diplomacy, which was highlighted in our previous piece—are identical to those at other local schools; misleading claims, poor administrative structures, and inconsistent academic quality, to sum up a long list of student and staff grievances. "UBIS University lists the Council for Higher Education (CHEA) as an accreditor of theirs. This is simply not true," insists Klafter. "CHEA does not accredit individual institutions. It is a membership organization of accreditors. The school has also teamed up with The University of Potomac, based in Washington DC. The University of Potomac has been on accreditor probation and is at risk of losing its accreditation and thus being forced to close."

There is an additional problem, of a more severe nature, at the Geneva-based institution in Myanmar. "In 2017, UBIS had a contract with a single individual who was teaching all the courses needed for a UBIS MBA degree offered in Myanmar's capital. I did some research on him and found out that he was forced out of his previous position and left the United States due to a statutory rape claim. Someone with this background would have never cleared a pre-employment background check typically undertaken by reputable Western universities."
---
GETTING CLOSER TO SWITZERLAND
"Summer school in Geneva and an internationally accredited MBA. This program is a unique opportunity for Azerbaijani students." This Facebook post by UBIS is one of many promises made by schools and posted on social media. Through frequent online marketing campaigns, the Canton's private institutions imply that students will gain access to Geneva upon enrollment.

Despite the fact that many international students who attend the schools listed above never make it out of their home country, cultivating ties to Switzerland is a major selling point for the institutions. The Office cantonal de la population (OCP)—Geneva's immigration authority—argued in their response to Diane Djeufang Hameni, the Cameroonian woman denied entry, that she "already had a Master's degree" and as "a childless young woman might be tempted to further her stay" for economic gain.

At The Geneva School of Diplomacy and International Relations (GSD), one Nigerian student has benefited from a seven-year student visa in the canton, despite failing to complete the Bachelor's degree he came here for. "His family has money, which gets him special attention in the school's administration," says a former staff member. By Swiss law, a student must prove that they have housing and sufficient funds, in addition to being backed by a registered school. Student visas can run 8 years, but usually no longer, barring exceptions.

Laurent Paoliello, a communications advisor for the Department of Security, Population, and Health, which includes the OCP, says that "there is no legal basis for refusing students" enrolled at private for-profit schools. "The vast majority of private schools are not accredited by swissuniversities or Eduqua," he adds.

Regulation is not on the cantonal policy agenda, for the time being at least. "I can very well imagine that certain schools or universities could be tempted to use the international aura of Geneva to attract students, including from developing countries," notes Yves de Matteis, a parliamentary deputy and former member of the Higher Education Commission in Geneva. "It is clear that if the courses, training, or diplomas delivered (by these schools) lack the academic criteria required, the commission should deal with the issue in the framework of its parliamentary meetings."

Tiziana Fantini, a communications advisor for The Federal Department of Economic Affairs, Education and Research (EAER), is aware of the problem but does not have sufficient jurisdiction to prevent it. "Often, intermediaries promote private institutions directly in the target countries and recruit on-site. Potential students completely trust these individuals and sign up for programs without doing any research."

Information and communication are key when it comes to choosing a program, insists Fantini: "We often respond to information requests and we recommend always inquiring. We have raised awareness in our embassies abroad about the problem of [bogus] private schools. Generally speaking, a school's accreditation according to the Federal Act on Funding and Coordination of the Swiss Higher Education Sector's requirements is a good quality indicator."

Neither Geneva Business School—which also runs campaigns in developing countries—nor UBIS have replied to The Geneva Observer's repeated requests for comment.
---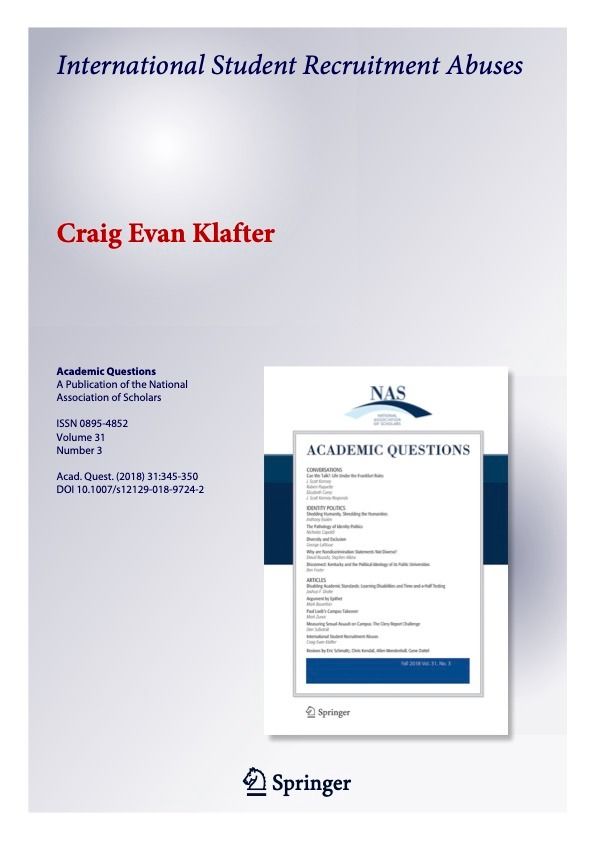 ---