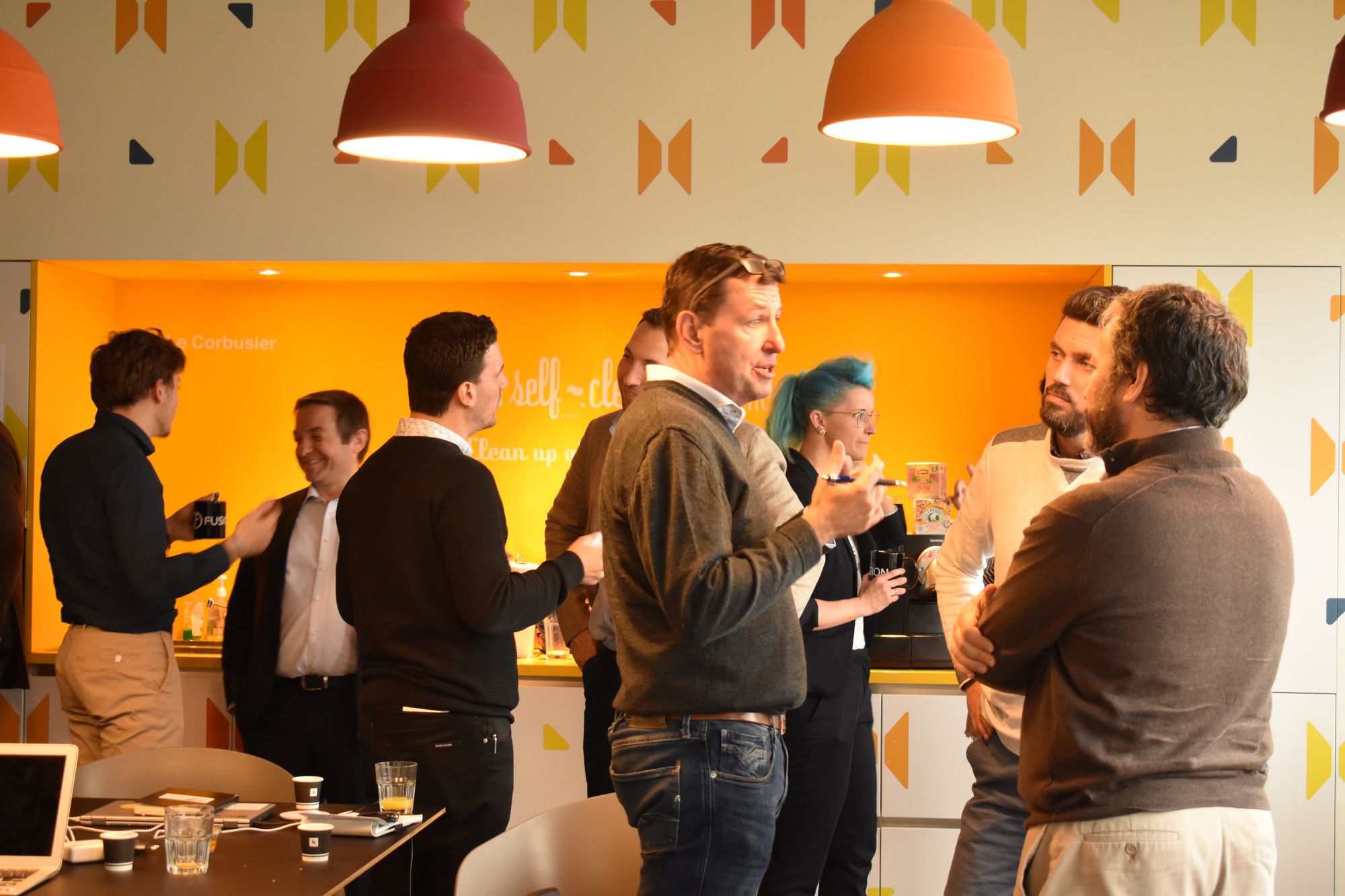 #4 SUSTAINED By The G|O - Thursday, May 27th 2021
When Tech Meets Sustainability, Revolutions Emerge
Subscribe
This is an onsite, slightly edited republication of the complete SUSTAINED - THE SDGS DECODED newsletter of May 27th, 2021
---
We focus on the marriage of tech expertise and a strong SDGs conscience. This combo is at the core of Hatch CoLab, a Geneva-based impact venture hub that is currently looking for the next batch of revolutionary companies. To quote Hatch's Lorenzo Niola, "We need to know where the money is coming from and where it is headed", and with that in mind SUSTAINED also talked to Beekee and Wikifarmer, two of the lab's promising tech ventures on the rise. We also have a few carefully selected SDG-related news items and another beautiful short film (part of Interdependence, the award-winning film anthology produced by Art of the World).
---
When Tech Meets Sustainability, Revolutions Emerge
What happens when you bring together tech expertise and a SDG-conscious mindset? You get Hatch CoLab, a Geneva-based impact venture hub. The entity's expert team is currently scouting a new pack of revolutionary start-ups. The Geneva Observer seized the opportunity to speak with one of Hatch's co-founders—as well as two of its most promising companies: Beekee and Wikifarmer.
Lorenzo Niola is in a hurry when he appears on the scheduled Zoom call. "I have so many companies to look into," says the 'impact tech global shaper' (according to his LinkedIn bio).
As one of the leading figures of Hatch CoLab, the first SDG-driven, Geneva-based, start-up accelerator and hub, the Italian-born businessman has a busy schedule. His job? Bringing the forces of the public and private sectors together, in order to propel high-impact companies with change-worthy ideas onto the global market. "Having co-created two companies myself in the past, I know how hard it is to grow a business," he explains.
"We avoid taking shares out of the company at the moment—Hatch CoLab becomes a sort of co-founder, in this sense—we avoid making obscure agreements and selling out shares to stay afloat." He adds, "Our approach to business is not the traditional 'spray and pray' model, used by other accelerators. We really stand out in that sense. Our entrepreneurs become like family. We know what they're struggling with."
The risks of mixing the public and private sectors
Mixing the demands of the private sector with those of the public realm brings with it the risk of 'greenwashing'. "There's a strong need for companies to be accountable, in order to avoid conflicts of interests," highlights Lorenzo Niola. "We need to know where the money is coming from and where it is headed.
One of our missions is to help companies become cleaner and greener, making a more positive impact on both society and planet, whilst also achieving the SDGs. Every company should have not just a financial statement, but also an environmental one. I was taught this at school ten years ago, but most companies still lack this approach.
For multinationals, there is an immense marketing argument for shifting towards more transparency—Starbucks, Coca Cola and Pepsi, for instance, are working to track their plastic waste. They are using drones to trace their products' lifecycle in terms of water pollution and landfill, in several countries."
When it comes to spotting ventures capable of addressing some of the globe's most pressing issues, Hatch CoLab has a protocol. "We look for companies that present three major characteristics: they are already in the market and have clients, they have a clear mission in favour of the environment and society, and they present a tech component. Every company is welcome to apply; our call for applications will be available shortly."
COVID-19 has also made Hatch's business approach more appealing to investors. "The pandemic has actually been getting us much more work and has really increased our companies' reach. They were already growing before, but the pandemic has given them much more traction—this is such an unprecedented time for SDG-driven tech businesses."
Educational technologies for challenging scenarios
Few know this better than Vincent Widmer and Sergio Estupiñán, PhDs in Educational Technologies from the University of Geneva. The pair co-founded Beekee, a Geneva-based start-up that designs and integrates innovative technologies, bringing digital educational content and peer collaboration to remote or inaccessible places. Their flourishing young company responds to a global need that has only grown with the pandemic, and is aligned with the targets of several SDGs.
Thanks to their first offline devices—which are already being used by staff of Doctors Without Borders (MSF) and other NGOs—up to 25 learners within a 40-meter radius of the device can access the educational platform without relying on an active Internet connection. Each apparatus contains a collection of targeted content and applications created by Beekee's team and other education professionals. "The device acts as a local network," explains Vincent Widmer. We capitalize on the widespread availability of smartphones, present in even the most underserved regions of the world. We have been trialling and making improvements to our devices since 2018, in Mozambique, Yemen, Iran, Iraq, and Kenya, thanks to our partners including InZone and MSF. As our products reach maturity, we think it is only a matter of time before they conquer new territories."
Ultimately, the pair hope to bring their technology to the attention of national governments. "There are many villages throughout the world that are deprived of any sort of educational infrastructure, hindering millions from accessing the fundamental human right that education is," says Sergio Estupiñán. "We hope to secure the support of governments and local authorities, so that the populations of such places can finally have access to quality education. This, in the long run, will translate into better opportunities and quality of life."
Knowledge and fairness for farmers
In some regards, education is also at the heart of Wikifarmer, a platform that offers quality, specialised content to the agriculture industry. It also acts as a transaction hub for landowners who wish to expand their sales and increase revenue. "Farmers essentially face two major issues," analyses Ilias Sousis, one of the platform's co-founders.
"First, they often have insufficient education and therefore tend to cultivate their fields based on habit or custom, rather than according to optimised and sustainable techniques. The other problem is that they are the most poorly paid part of the supply chain, even though they produce the most significant element. Farmers are the poorest people on earth: there are countries in Asia and Africa where farmers make the equivalent of a dollar a month. We believe that our platform is capable of changing this detrimental cycle, and the cornerstone of sustainable development, in our opinion, is information.
Our rationale is that if our marketplace succeeds in changing the agricultural supply chain, farmers will be more profitable and able to reinvest these profits in their farms, upgrading agriculture as a whole."
Agronomist Peter Sagos is the brains behind Wikifarmer's genesis. "Back in 2016, I operated some websites explaining how to grow and irrigate olive trees in Greece," he remembers. "All of sudden, I had people calling me from the United States and the UK to get information. This made me realize how much knowledge was lacking in this field."
Determined to follow up on his instincts, Peter contacted Ilias, his old schoolmate and a computer expert. "I wanted to build a user-generated platform, so that people could share information about their crops," says Peter. "The concept immediately gained unexpected traction when the UN started promoting Wikifarmer as 'the Wikipedia of farming', encouraging farmers to join, edit or write articles about agriculture. Our library is now translated into 12 languages and has been visited by more than 8.5 million farmers from more than 180 countries."
Wikifarmer's marketplace is already being used abundantly in Greece. "We have a small team of capable people working for us, which we are looking to expand," explains Ilias. "Our short-term plan is to empower farmers throughout the Mediterranean, digitising and enabling them to sell their products online, thereby helping them upgrade their capabilities by increasing profits. We are currently fundraising and looking for the best partners for expansion to these countries, so that we can later expand to the areas that have the biggest problems—we think that it will take us five years to go global."
---
Sustained News in Brief

IEA Calls for Immediate Fossil Fuel Cessation
Last week, the International Energy Administration (IEA) declared in an unprecedented report that the world had a slim chance of reaching the goal of net-zero carbon emissions by 2050—an achievement that would require a complete transformation of "how energy is produced, transported and used globally." The document goes on to state, however, that this continues to be the only way the global temperature rise could be limited to +1.5°C.
UNEP Backs an Apocalyptic Report
A joint study produced by the Convention on Biological Diversity and the UN Environment Programme (UNEP) concludes that despite progress in clean water, sanitation, clean energy and forest management, devastating biodiversity loss and climate change continue unabated. The Measuring Progress report reviewed how countries are making headway based on assessment through each of the 17 goals.
Climate Migrants at the Heart of an International Dialogue
The International Organization of Migration (IOM) held its first International Dialogue on Migration (IDM) session of 2021 between May 25 and May 27—a necessary event which will address the fates of 30.7 million people across 149 countries and territories who were displaced in 2020 in the context of disasters. According to the World Bank, 143 million internal climate migrants will need assistance by 2050 if no climate measures are put into action.
SDG Toolkit for the Cryptocurrency Market
Both regulators and companies need to check claims around sustainability and ethical production, according to a new blockchain-based transparency toolkit. Launched by the UN Economic Commission for Europe (UNECE), the new guidelines have been backed by 56 countries and were created with the participation of more than 250 industry experts.
A Panel for Better SDG 3 Understanding
The World Health Organisation (WHO), the Food and Agriculture Organisation of the United Nations (FAO), the World Organisation for Animal Health (OIE) and the United Nations Environment Programme (UNEP) are joining forces to improve understanding of epidemic genesis. The new 'One Health High-Level Expert Panel (OHHLEP)' will study the development of infectious diseases that come from animals, such as H5N1, influenza, MERS, Ebola, Zika, and possibly COVID-19.
---
INTERDEPENDENCE, 2019 This week, SUSTAINED brings you "Ka Mua Ka Muri", a film about the the disappearance of coral on the Cook Islands of the South Pacific by Karin Williams.* *Interdependence, a series of eleven short films ( 5' to 11') was the winner of the Best Narrative Feature at the London Eco Film Festival, March 2021. The film was produced under the patronage of the UNO in Geneva, WMO and the City of Milan. Production by ART for The World, Geneva Concept by Adelina von Fürstenberg, the stories illustrated by eleven international filmmakers from various continents reflect the intertwining relations between mankind and the environment and how they are worsened by climate change on several levels and dimensions, hinting at possible solutions. With the participation of the filmmakers Faouzi Bensaïdi/Morocco, Mahamat-Saleh Haroun/Tchad, Ása Hjörleifsdóttir/Iceland, Salome Lamas/Portugal, Bettina Oberli/Switzerland, Nila Madhab Panda/India, Shahrbanoo Sadat/Afganistan, Silvio Soldini/Italy, Daniela Thomas/Brazil, Leon Wang/China, Karin Williams/New Zealand
---
Today's Sustained: Sarah Zeines
Edited by: Paige Holt