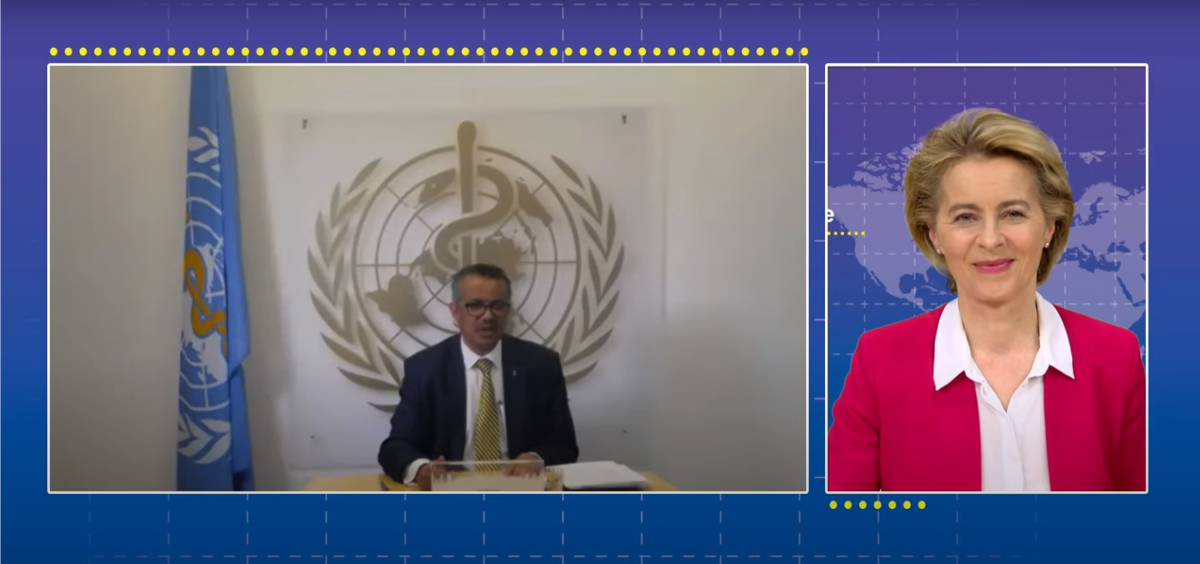 #1 The G|O Briefing, May 4, 2020
HELLO GENEVA, BRUSSEL CALLING
Subscribe
This is an onsite edited excerpt of the G|O Briefing newsletter
---
Today in The Geneva Observer, on Monday, in scenes reminiscent of the Eurovision Song Contest's results segment, EU Commission President Ursula von der Leyen hosted the snappily titled "Coronavirus Global Response International Pledging Event #UnitedAgainstCoronavirus #StrongerTogether #GlobalResponse."
From the Commission headquarters in Brussels, von der Leyen threw to a virtual parade of poorly lit world leaders and international partners in empty offices, living, bed, and spare rooms. Awkwardly looking slightly off-camera, they read pre-prepared statements emphasizing the importance of the international community's response to Covid-19 and collectively "pledging" 7.4 billion euros.
Earmarked for vaccines, medicines, and diagnostics, it is unclear how much of the money is actually 'new.' In fact, totals include money spent since the end of January as well as money already in international development and aid budgets. Politico has a run-through of some of the issues here  and here

Spearheaded by the EU Commission, Italy, France, Spain, Germany, the UK, Norway, Canada, Japan, and Saudi Arabia (as current president of the G20), the show of confidence in WHO, as well as multilateralism and international cooperation generally, stood in stark—and no doubt intentional—contrast to the weeks of criticism of WHO from the US. On top of this, the European Investment Bank signed a memorandum of understanding with WHO last week in order to enhance investment in health infrastructure and health workers in developing countries.
As Geneva increasingly becomes a battleground between China and the US, Foreign Policy has a piece on this here the EU seems keen to position itself publicly as the UN's key ally.
While leaders line up to talk a good game on inclusivity and solidarity, WHO's toughest test may still lie in countering nationalistic tendencies once a vaccine and/or cure are found. Dr Tedros has repeatedly stated at his regular press conferences that "the ultimate measure of success will not be how fast we can develop tools, it will be how equally we can distribute them. None of us can accept a world in which some people are protected while others remain exposed." As was seen with the debacles over country procurement of PPE and ventilators, it may be, sadly, that such a world is acceptable to many for quite some time.
Although the pledging event was convened from Brussels, Geneva-based organizations were front and center. As well as WHO, almost all non-state partners involved are headquartered here: WEF, GAVI, Unitaid, the International Federation of Pharmaceutical Manufacturers and Associations, Global Fund, and the Foundation for Innovative New Diagnostics. This underscores how crucial the Geneva ecosystem is to solving the crisis and also poses the question: Why was this happening in Brussels and not during WHO's annual World Health Assembly in two weeks? Geneva-based journalist Priti Patnaik has two interesting pieces on these issues: one on the way WHO has potentially been side-lined in the context of EU's pledging event for fighting the pandemic - how resources will be spent and overseen here. And another on the ongoing negotiations around the EU's proposed
resolution on Coronavirus response that will be taken up at the upcoming World Health Assembly And another on the ongoing negotiations around the EU's proposed resolution on Coronavirus response that will be taken up at the upcoming World Health Assembly.
In other WHO news, WHO's Emergency Committee on Coronavirus met for the third time at the end of last week. . Emergency Committees are convened by WHO at times of crisis and advise it on declaring international health emergencies, the highest level of alarm, as well as on which measures should be taken.

While it probably isn't fair to criticize WHO for failing to get China or the US to follow its leadership (in any case, WHO does not have the ability to enforce them by sanctioning member states), legitimate questions do remain as to why its repeated warnings and recommendations didn't seem to cut through.
After dismal failure in 2014, WHO's role in the current Ebola outbreak in the Democratic Republic of Congo has come in part through filling a vacuum of (public health) leadership, as well as the weakened health systems' desperate need for technical guidance and resources. This pandemic began in China, and its epicenter has moved to Western Europe and then the US—countries that have their own strong public health systems and whose politics are not primed to listen to WHO's warnings. As the pandemic accelerates in low- and middle-income countries, questions will continue to be asked.
If you'd like to know more about WHO:
Fumi Kurihara (Graduate Institute's Global Health Centre) has a great piece describing WHO's workings through the dynamics of a high school orchestra.
On Coronavirus and WHO, this week's London Review of Books' Talking Politics podcast has an interesting discussion with Amy Maxmen, senior reporter at Nature.
For a more legal perspective, the British Institute of Comparative and International Law has posted a good and surprisingly accessible conversation between Philippe Sands (award-winning author and international lawyer) with Gian Luca Burci (professor of international health law at the Graduate Institute and former legal counsel for WHO) discussing WHO's role under international health law during health emergencies and Covid in particular.
And finally, in Covid sporting imagery news, tennis star Grigor Dimitrov and football legend José Mourinho have both issued videos to encourage popular support for international coronavirus cooperation. The contest between them seems to be who can crowbar in the most unsubtle, half-baked sporting comparison with the least amount of energy.  It's José "Like football, the fight against coronavirus is a teamwork" Mourinho vs. Grigor "The lesson I have learned from sports is that we are stronger united" Dimitrov!

Not to be outdone, Ursula von der Leyen ended her hosting duties on Monday with the confusing "At a time when we are sitting further apart than usual, the world has shown it is standing closer together than ever before … today's sprint was a great start for our marathon." Although, as a metaphor for the way the international community tends to deal with crises, starting a marathon with a sprint might actually be quite apt.
-PHM & AW
---