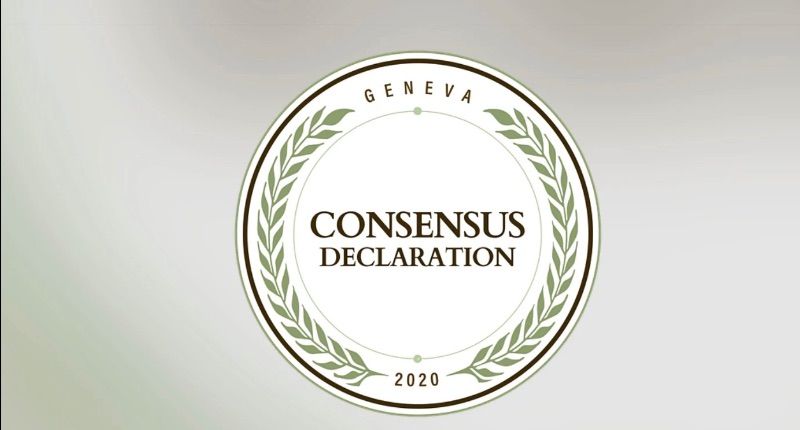 #35 The G|O Briefing, February 2, 2021
Donald Trump's legacy of weakening human rights, particularly women's rights, is swiftly being rolled back by Joe Biden | Biden's ambassador to the UN pledges to stop Chinese infiltration |
Subscribe
This is an onsite, slightly edited republication of the complete G|O Briefing newsletter
Today in The Geneva Observer, Donald Trump's legacy of weakening human rights, particularly women's rights, is swiftly being rolled back by Joe Biden. On our website, Elisabeth Drew, the grande dame of Washington political reporting, assesses the new president's actions so far. We also come back to climate change, with hopes of Washington and Beijing rejoining in a common push to act somewhat dashed by China's latest utterances.
---
THE END OF THE GENEVA CONSENSUS DECLARATION?
You may remember it: we called it "Orwellian" in its name when it was announced, as it was not Genevan and all but consensual. Last October, on the initiative of former Secretary of State Mike Pompeo, the US signed the "Geneva Consensus Declaration," essentially a forceful anti-abortion declaration, with a coalition of mostly authoritarian governments. Well, count us out, said Joe Biden.

Less than a week after taking office, in a memorandum on "protecting women's health at home and abroad" sent to his new Secretary of State and other departments, the new US president explicitly distanced his administration from the initiative.

"The Secretary of State and the Secretary of Health and Human Services, in a timely and appropriate manner, shall withdraw co-sponsorship and signature from the Geneva Consensus Declaration and notify other co-sponsors and signatories to the Declaration and other appropriate parties of the United States' withdrawal," the memorandum reads.
Orphaned from its main sponsor, is the Geneva Consensus Declaration dead?
Officially yes, but the fight will nevertheless go on if one believes Valerie Huber's farewell email sent to staff and partners obtained by The G|O. Special Representative for Global Women's Health of the US Department of Health and Human Services under the Trump administration, Huber—an abstinence-only activist—is one of the most ideologically driven opponents of women's reproductive rights and was a central figure in shaping the language of the Geneva Consensus Declaration as the Washington Post reported back in 2019.
Valerie Huber's last email:

"I sincerely appreciate your support of the Geneva Consensus Declaration and the key priorities enshrined in that document. I hope you will support countries that signed the Declaration and also urge additional countries to sign on," she wrote. "I am happy to announce that Brazil graciously offered to now serve as the coordinator of this historic coalition. Countries that wish to join the Declaration can do so by contacting the Brazilian Embassy to the US for further details," Huber explains.

Attached to her email is a long list of documents and links meant to provide arguments and resources to ensure the survival of the initiative. It includes "contact information of NGOs around the world who agreed to share those details with this like-minded global community, contacts of friends of the GCD as well as talking points describing the importance of this historic Declaration, documents that detail how the World Health Organization & the UN are reinterpreting terms to promote abortion in their policies and programs." "This historic coalition must remain strong!" she concludes.
Biden's decision to withdraw from the coalition was part of a broader set of decisions, most notably rescinding the so-called "global gag rule," a Reagan-era policy that prevented US foreign aid to organizations around the world from providing abortion services and counseling. It had been suspended under the Democrat administration but reinstated and expanded by Donald Trump on his first day in office in 2017.
---
BIDEN'S AMBASSADOR TO THE UN PLEDGES TO STOP CHINESE INFILTRATION.
Linda Thomas-Greenfield, Biden's nominee for US Ambassador to the United Nations, pledged to stop the advance of China in the international body. The first step would be for the US to rejoin the Human Rights Council, as leaving it to begin with was the single most important factor in allowing China to develop its influence with the body.

During her hearing before the Senate last week, it was clear that countering Beijing's influence at the UN and international agencies would be a priority. According to Thomas-Greenfield, the nomination of Chinese citizens for jobs at the United Nations had increased, both at high-level posts and staff positions.
"We know China is working across the UN system to drive an authoritarian agenda that stands in opposition to the founding values of the institution—American values. Their success depends on our continued withdrawal. That will not happen on my watch," she said.

"I see what they're doing at the United Nations as undermining our values, undermining what we believe in. They're undermining our security. They're undermining our people. And we need to work against that," she said. "I will be working aggressively against Chinese malign efforts in New York," the ambassador promised. The US will rejoin the HRC in February with observer status. It will have to apply in the fall for one of two seats up for grabs.

---
Staying with China, commenting on the US's renewed commitment to aggressively fight climate change, we wrote in our last Briefing that things were looking up for renewed cooperation between the two countries in spite of their current tensions. In a press briefing at the White House on January 27, climate czar John Kerry told reporters that "while mindful that we have very serious differences with China on some very important issues," cooperation on climate change should be a "stand-alone issue" given the urgency.
But through its Foreign Ministry spokesman, Beijing immediately rejected the idea, saying: "China is ready to cooperate with the United States and the international community on climate change. That said, I'd like to stress that China-US cooperation in specific areas, unlike flowers that can bloom in a greenhouse despite winter chill, is closely linked with bilateral relations as a whole. China has emphasized time and again that no one should imagine they could ask China to understand and support them in bilateral and global affairs when they blatantly interfere in China's domestic affairs and undermine China's interests. We hope the United States can create favorable conditions for coordination and cooperation with China in major areas."
A message that was relayed by the Global Times. "US can't partner, confront China at the same time," it wrote the same day in an editorial taking stock of the relationship between the two countries after four years of escalating tensions. Even taking into account Beijing's desire to forcefully state its position in advance of a direct first exchange between the two presidents, it appears that the Chinese leadership is not willing to sound conciliatory. Addressing the accusation of "genocide" leveled at China by Mike Pompeo before leaving office, an accusation backed by Anthony Blinken, the new Secretary of State, the Global Times quoted China's Foreign Ministry spokesman: "The important issue needs to be repeated three times: China has no genocide, China has no genocide, China has no genocide. Period."
---
ELSEWHERE IN THE ECOSYSTEM
France keeps post at WHO

Agnès Buzyn will be the new WHO Envoy for Multilateral Affairs. In an email to member states, WHO D-G Dr. Tedros informed staff that she will take the job left vacant by Michèle Boccoz, newly appointed as French Ambassador to the Philippines.

Prior to joining WHO, Buzyn was a Professor of Hematology at the Université Pierre-et-Marie-Curie in Paris. She has served as the French Minister of Solidarity and Health and has previously served as the Executive President of the French National Cancer Institute (Inca). Her role will be to strengthen WHO's involvement in health diplomacy. She will also serve as Dr. Tedro's sherpa in furthering WHO's engagement with multilateral fora, including the G7 and G20.
A looming catastrophic famine in Yemen
With five million Yemeni civilians on the verge of famine in the war-torn nation, UN humanitarian agencies are waiting with high anxiety to see what the new Biden administration will come up with at the end of the review (26 Feb.) concerning the terrorist designation of Ansar Allah (Houthis). In the interim, the US issued a general license that exempts all humanitarian transactions with the Houthis from sanctions until 26 February. However, UN officials point out the general license is not a reversal of the designation. It means, they stress, the Houthis are still technically a foreign terrorist organization, leaving a risk of prosecution for transactions involving the group.

UN humanitarians note that in light of the uncertainty, some companies have voiced their concerns that they are "still planning to cancel or suspend business transactions" given that the measure has not resolved the matter.

"Our main concern right now is around commercial imports, which are what will make the biggest difference in whether Yemen slips into a large-scale famine. Aid agencies cannot replace the commercial sector or compensate for major drops in commercial imports. That has been our position for years," say OCHA officials. The UN is still advocating for a reversal of the designation on humanitarian grounds.

Meanwhile, the UN's World Food Programme (WFP) said, "All signs point to a scenario worse than that seen in 2018 – when the WFP last warned of famine. Compared to 2018, the number of districts in the emergency phase – IPC Phase 4 – is set to more than triple from 49 to 154 out of 333 districts with 5 million people a step away from famine."

The WFP, which is strapped for cash and has only half of what it needs to keep up supplies to Yemen, also stressed that "in the first half of 2021, some 16.2 million people are set to face acute levels of food insecurity, with a return of famine-like (IPC 5) conditions for the first time in two years."
---
Today's Briefing: Philippe Mottaz - Jamil Chade - John Zarocostas - Edited by: Paige Holt

---