#64 The G|O Briefing, July 29, 2021
Could 'systemic racism' be hurting the human rights cause? Plus, climate change: the IPCC hard at work–and a pandemic is not enough to keep WTO open..
Subscribe
This is an onsite, slightly edited republication of the complete G|O Briefing newsletter
---
Today in The Geneva Observer, a stimulating and provocative essay about how best to promote and defend human rights. Human rights advocate and researcher Nicolas Agostini argues that the indiscriminate use of the concept of 'systemic racism' might eventually harm the cause.

Meanwhile, Jamil Chade has been following the work of the Intergovernmental Panel on Climate Change (IPCC), virtually convened from Geneva to continue work on its 6th report—a draft of which was leaked in June. It made for bleak reading. "Life on Earth can recover from a drastic climate shift by evolving into new species and creating new ecosystems […] humans cannot," the draft asserted, a sentence that put climate change in an even more frightening perspective. Not by coincidence, the panel has been convened three months short of the UN COP26 event, which will open in Glasgow on November 1.In Elsewhere in the Ecosystem this week, we briefly swing by WHO, this time to talk about Big Tobacco, and we share the disappointment of the proponents of an IP waiver for COVID-19 vaccines, as, in the middle of the pandemic, the WTO maintains its practice of shutting down for the month of August.

It's all below. Thank you for reading us.
---
UN pushes for strong IPCC report to boost Glasgow
The United Nations Intergovernmental Panel on Climate Change (IPCC) convened on Monday (July 26) to work on the final version of its 6th report. Leaked in June, the report's first conclusions made headlines around the world as the IPCC warned of a notable acceleration of climate change which, unless slowed down, could provoke "tipping points"—events triggered by a rise in temperature that have cumulative effects. One such example is the melting of the Arctic permafrost, which can then result in methane being released from the soil.  

Since Monday, July 26, members of the panel have been working virtually from the World Meteorolical Organisation's (WMO) Geneva headquarters, hashing out the details of a final draft. The document will provide the most up to date scientific information about the climate system and climate change available today. The group has until August 6 to complete its work; the full report, however, won't be released before February 2022.

Amid the twin crises of climate change and the pandemic, science and politics are profoundly intertwined. For the IPCC—and the planet—the stakes are probably higher than they ever have been. WMO Secretary-General Petteri Taalas took advantage of the meeting's opening session to remind the assembled scientists that the report was critical to the outcome of the United Nations Conferences of the State Parties (COP26), which will open in Glasgow on November 1. Put simply, the UN is pinning its hopes on governments finally deciding to act, given that not doing so would be too risky, politically, while the situation continues to deteriorate. In this context, Angela Merkel's recent admission that Germany has been slow in responding to the climate change emergency is a sign of things moving in the right direction. But it comes as she's leaving office.
What's more, governments alone clearly won't be able to meet the COP26 targets by fiat. One of COP26's main architects, former Bank of England Governor Mark Carney, called for more business regulations, claiming that markets won't move fast enough without intervention. But will such appeals suffice? They have been heard before. Because of this inaction, we now find ourselves forced to contemplate the possibility of having to resort to bioengineering; tampering with the Earth by using technologies that could (we hope) ultimately decouple emissions and global warming.

The world is at a "climate crossroads," the UN Climate Change Executive Secretary Patricia Espinosa declared during the opening session, adding that decisions taken this year would determine whether it will be possible to limit global warning to 1.5°C above the pre-industrial era by the end of the century. The world is currently on the opposite track, she said, heading for a 3°C rise.

Like its previous editions, the 6th IPCC report will express the international scientific consensus about human-caused climate change, and will be the most complete picture of climate change ever produced. It takes years to put together such comprehensive reports. The last one was published in 2013—and the urgency of tackling the climate crisis has never been clearer, as evidenced by the raft of catastrophic climate-driven events that we have witnessed over the last few months in various parts of the planet.

This report will be comprehensive in its review of past warming as well as its projection of future change. Climate change science has progressed by enormous leaps since 2009, date of the IPCC's last full report. Both data collection, through new technologies, and data processing give scientists today an unprecedented set of tools to refine their simulations.

For the first time, the report will also feature regional surveys: an important development, since climate change affects different parts of the world in different ways and to varying degrees. This is a significant update, as many countries simply don't have the resources to monitor the situation and have, until now, been left in the dark. No longer.
-JC
---
Elsewhere in the Ecosystem
A Convenient Vacation?
On many levels, pandemics and holidays don't go well together, and for some WTO watchers, the organisation's self-imposed summer hiatus looks like a cynical delaying tactic.

Over the last few days, the EU, the UK, and Switzerland have appeared to be dragging their feet on what has almost become a household name: the TRIPS waiver for COVID-19 vaccines. WTO is ruled by consensus, and none is in sight.  

As the WTO met this week, there was hope, among countries and civil society in favour of a waiver, that a preliminary agreement could be reached. The need to urgently ramp up production is not in dispute; the way to reach that goal however, as The G|O has often reported, is in dispute. Patience seems to be wearing thin—even for WTO Director General Ngozi Okonjo-Iweala, who has repeatedly complained about the slow pace of discussions. Well, not even she was able to change the dynamics: the WTO will take its sacrosanct August break and reconvene in September.

The calendar favours those who oppose the waiver: it will buy time for the industry to increase production and sign bilateral 'transfer of technology' agreements. By the time diplomats meet again, the rationale for a waiver will be weakened, and the idea claimed as irrelevant—so say India and South-Africa, the main backers of the proposal. As we reported again last week, opponents of the proposal maintain that a waiver would not address the fundamental issue, and that there are better ways to speed up the rate of vaccination around the world. We can only hope that they are right.
-PHM
---
The end of ENDS?
Our friends at Health Policy Watch have done a thorough job of covering the release of a new WHO report on the tobacco epidemic of 2021. You can read their coverage here, and get the full report here, created in cooperation with the Bloomberg Foundation.

Smoking, of course, is no longer what it used to be, but this is exactly today's problem: contrary to the industry's claims, vaping, says WHO, is far from safe. "Electronic Nicotine Delivery Systems (ENDS)," the document tells us, "are addictive and not without harm," and "children and adolescents who use ENDS can double their risk of smoking cigarettes"—which is exactly why they are being directly targeted by the industry. According to the Lancet, over the last two decades, one in five of the 1 billion smokers in the world became addicted by the age of 15.
The WHO report is quite blunt about Big Tobacco's efforts to fight the regulations of ENDS: "Whenever tobacco companies have faced a major threat, they have introduced new products promising they would be less harmful than conventional cigarettes. Ultimately, they have just undermined progress while providing the industry with a new way to make money." And as the illustration below (taken from the report) shows, they are sparing no effort to fight regulations.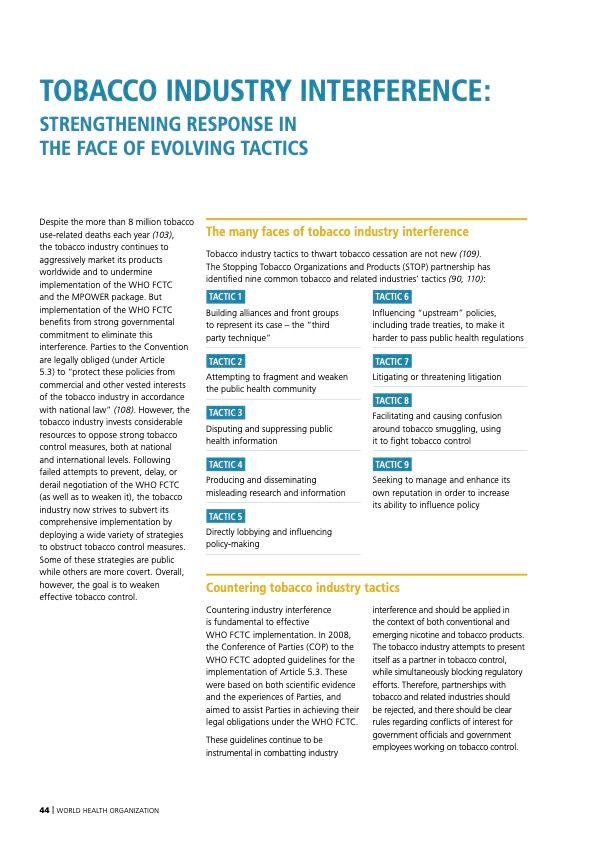 ---
Human rights: the pitfalls of 'systemic' analyses
By Nicolas Agostini*
On July 12, 2021, as the UN Human Rights Council prepared to vote on a European Union-backed resolution addressing egregious abuses in Eritrea, the Filipino representative opposed the initiative by claiming that since it targeted an African country, it was grounded in racism. The diplomat urged states to reflect on the "values and biases with roots in racism that operate in our work in the Council."
Authoritarian governments alleging bias to dismiss UN resolutions is not new. The Filipino statement, however, took place in a specific context: that of debates around 'systemic racism', which gained traction with the Black Lives Matter movement and translated into Council resolution 43/1. Following a recent report, which draws extensively from 'systemic' analyses, the Council added a layer to its work on racial justice and equality by creating a new mechanism. At the Council, more and more NGO statements, addressing a diverse range of issues and countries, characterize violations as "systemic"—often without thoroughly analyzing what might make them so.
"Human rights advocates should ask themselves when systemic analyses are relevant for human rights work, and whether an over-extensive, sloppy, and uncritical use of the concept might actually impede the progress they seek."
Attributing responsibility
'Individual agency vs. structural forces' is an age-old philosophical and sociological debate. Human rights actors have always navigated between twin goals: seeking accountability for individual acts and addressing structures that enable the perpetuation of violations (including institutions, laws, policies, and sociocultural environments).
For their part, eager to deny the existence of structural issues and escape responsibility for change, governments often attempt to individualize human rights violations, making them collections of unconnected news items. For instance, they will deal with incidents of police violence against Black people on a case-by-case basis.
Systemic analyses add value to human rights work. They enable a look at the broader picture: patterns of violations, and what gives rise to those patterns. The conviction of one officer (like Derek Chauvin's for the murder of George Floyd) will not automatically improve the situation for Black people in the US. Societal structures, practices, and attitudes will not change overnight.
But if we move away from a focus on the individual (where no human rights violation is systemic) and shift to the other extreme, leaving no space for agency (every human rights violation is systemic), we risk ending up in a situation where attributing responsibility is trickier.
"An over-extensive use of systemic analyses risks delegitimizing values, norms and processes that foster common understanding and individual responsibility."
First, if power systems govern all social processes and interpersonal relations, how do you hold individuals fully accountable for their acts? For racists, systemic racism can be an extenuating circumstance, or even a way out. Obviously, structural issues and individual violations can coexist. State responsibility does not preclude individual criminal accountability, just as individual accountability does not preclude state action to prevent the repetition of abuses.

However, if one focuses entirely on systems, one risks undermining the moral and legal basis for holding individuals accountable. Irrespective of systemic issues and historical legacies, human rights violations are linked to choices. For a violation to take place, someone must make a choice.

Derek Chauvin chose to hold his knee on George Floyd's neck for nine minutes. His colleagues chose to stand idly by. Most police officers choose not to engage in criminal acts.
Second, if we acknowledge the existence of 'systems' that have been designed to oppress categories of people, then how do we justify working with existing institutions—including judicial institutions? In the name of addressing embedded bias, one may be tempted to destroy these institutions, rejecting the need to follow due process—including basic principles such as the principle of legality or the presumption of innocence. An over-extensive use of systemic analyses risks delegitimizing values, norms and processes that foster common understanding and individual responsibility.
Introducing discernment
Used without precision and rigor, there is also a danger that systemic analyses may lead to lack of nuance and proportionality. A sloppy use of systemic analyses risks erasing the complexity of institutions, social phenomena, and interpersonal interactions.
It also risks undermining human rights methods. Levels of evidence required to expose abusive 'practices,' 'policies,' and 'systems' are not the same: The level of evidence required is lowest in the first case, higher in the second, and highest of all in the last case. By acknowledging systemic violations to be ubiquitous, we potentially deflect attention from those systems with the most serious issues, where human rights violations are intrinsically linked to policies, practices and institutions.

For instance, the widespread, systematic atrocities committed against China's Uyghurs, Eritrean military conscripts, and victims of torture in Syria certainly fit the definition of 'systemic violations'. But the Chinese, Eritrean, and Syrian political-institutional systems are incapable of addressing their own flaws. Domestic avenues for redress are non-existent; self-reflection and reforms are unthinkable—they would precipitate the fall of these systems. Can the same be said about all political-institutional systems? Can the same be said, without reservations, nuance, or a pinch of salt, about today's US?
The current institutional, legal, policy, and sociocultural environment in the US is different from those in Xinjiang, Eritrea, or Syria.  Nuance is needed to recognize that institutions, laws, policies, and societal practices and attitudes in democratic countries can contain both problematic and progressive elements. Discernment should guide human rights work.
Valuing cautiousness
Lastly, if they are used in an uncritical manner, systemic analyses risk paving the way for a lack of intellectual cautiousness. There is a thin line between embracing approaches that offer a comprehensive explanation of social structures and believing you have the 'social world' completely figured out.
For instance, if one applies a single analytical lens to look at police-minority relations, one may draw conclusions about each encounter between a Black person and the police without being familiar with the facts of each case, discarding the need for thorough investigations. Many phenomena cannot be reduced to a single explaining factor. Human behavior often evades theoretical grids. A fetish for systemic analyses can lead their proponents to claim that they know the truth, not just about the social world, but about each and every alleged violation. This can lead to cognitive distortions, such as perception and selection biases (discounting elements that disprove your theory, or, conversely, only paying attention to elements that confirm it) and a tendency to ignore confounding variables.
In this sense, cautiousness means avoiding generalizations that are not supported by a minimum amount of evidence. It also means refraining from imprisoning people in rigid categories (such as oppressor/victim), denying their agency, and assigning traits, thoughts, and behaviors to them based on immutable characteristics (which is also what racists do).
A sweeping use of systemic analyses risks paving the way for more statements like the abovementioned Filipino one—and for more backlash, because if Western states are defined by systemic racism, then all initiatives they take (including the Eritrea resolutions) are racist. From this, we are only a step away from defending every violation that is criticized by Western states (and supporting those regimes responsible for them)—hugely counterproductive for human rights advocacy.
"If every violation is systemic, systemic analyses of human rights violations, useful in the right circumstances, will lose all value."
Systemic analyses (of issues including racism) can be useful, but they should be used conscientiously. Racist incidents and patterns of behavior can be discussed without always referring to 'white supremacy' or using critical race theory tropes. There is nothing to gain in being trapped in a mental universe where any critique of systemic analyses is deemed immoral or in bad faith, or where anyone who does not follow the prevailing narrative on racism is labelled a racist. This is the opposite of what human rights advocates need if they hope to positively influence the rest of society.
Systemic human rights issues exist, but not every human rights violation is systemic, and many of those violations that have systemic factors cannot be reduced to these dimensions alone. An uncritical, unshakeable reliance on all-encompassing systemic analyses and an exclusive focus on systems—with its corollary, disregarding individual agency, nuance, and cautiousness—are self-defeating. Ultimately, if every violation is systemic, systemic analyses of human rights violations, useful in the right circumstances, will lose all value.
-NC
*Nicolas Agostini is a human rights advocate and researcher, currently working between Geneva and East Africa
---
Today's Briefing: Philippe Mottaz - Jamil Chade
Guest eassy: Nicolas Agostini
Edited by: Paige Holt

---