#56 The G|O Briefing, May 12, 2021
A major victory for civil society - Independent panel says Covid pandemic was preventable - The Bergamo files: Ranieri Guerra presents its defence
Subscribe
This is an onsite, slightly edited republication of the complete G|O Briefing newsletter
Today in The Geneva Observer, as an independent panel—whose draft report we previously shared—tells us today (May 12) that the COVID-19 pandemic was preventable, leaving us both angry at its conclusions and grateful to its authors for not shying away from finding that "global political leadership was absent," we chose to hail civil society's contribution to long overdue systemic reform in Big Pharma.

Institutions and organizations often resist change, not because they don't want to reform, but because too often they don't know how to. This is where civil society, and more broadly a bottom-up inclusive approach, can help. Civil society's push can no longer be ignored after last week's surprise decision by the US administration to drop its opposition to the TRIPS waiver: it represents a true paradigm shift.
As John Zarocostas writes, the American reversal that many consider a game-changer can be credited in large part to a formidable global advocacy campaign organised over the years, which eventually succeeded in defeating Big Pharma's narrative around IP and innovation. It could have implications for other sectors—Big Tech for one—which have essentially used the same rationale for resisting regulation.

Civil society's campaign mirrors the one that Big Pharma (and Big Tech) itself mounted from the mid-1980s to the early 1990s, playing a critical role in establishing the WTO IP rules. One of the main architects of the effort to include strong IP protection rights in the Uruguay Round of the General Agreement on Tariffs and Trade (GATT; WTO's precursor) was Edmund Pratt, the then CEO of Pfizer, together with the Chair of IBM. It should be noted that GATT's Director at the time was a Swiss, Arthur Dunkel, a formidable diplomat. Switzerland remains steadfast in its opposition to the TRIPS Waiver.
-PHM
---
Civil Society the "catalyst" in Biden administration's surprise move to support talks on a WTO waiver for COVID-19 vaccines
By John Zarocostas
Civil society has been widely credited in diplomatic circles as "the catalyst" that tipped the balance and led the U.S. Administration of President Joe Biden to declare, on May 5, that it would engage in World Trade Organization negotiations over a waiver in intellectual property protections for COVID-19 vaccines.
Savvy and persistent public advocacy and smooth diplomacy in Geneva, Washington, and other key capitals—a departure from earlier confrontational campaigns—helped civil society re-orient the political debate and push effectively for change.
"The issue of equitable access to vaccines, diagnostics and therapeutics is both the moral and economic issue of our time." Dr. Ngozi Okonjo-Iwaela
The surprise move, announced by USTR Katherine Tai, leaving WTO ambassadors speechless, heralded a radical policy departure from decades of bipartisan iron-clad support from Washington for the primacy of IP rights in multilateral forums. The pharma industry was shell-shocked by the unforeseen U-turn, which it views as anathema, and is determined to push back. Meanwhile civil society, which has championed equitable access for the world's poor, heralded the shift as a long overdue and important first step—but certainly not enough.
Dr Ngozi Okonjo-Iweala, WTO Director-General, welcomed the willingness of the US to engage in negotiations on a waiver, and just a day earlier had also underscored that "the issue of equitable access to vaccines, diagnostics and therapeutics is both the moral and economic issue of our time."
"The decision today (May 5) is a result of extensive mobilisation by civil society, including everyone I know who works on issues regarding access to medicines," said James Love, Director of Washington-based Knowledge Ecology International (KEI). Love is a veteran and influential activist for trade and health access issues both in Geneva-based international organizations and on Capitol Hill.
"A few things are worth mentioning," Love noted. "One reason why the U.S will back a waiver on vaccines but not therapeutics or diagnostics is that vaccines in foreign markets protect us. Therapeutics and diagnostics in foreign markets, don't."
A senior UN expert and former Washington insider noted that Biden relied heavily on progressives, including from civil society, to win the 2020 election, and added, "some of these are now in influential decision-making positions, and the waiver was viewed as an opportunity to push things in the right direction."
"Non-Governmental Organizations ran rings around the pharma industry and major developed countries, as well as some developing economies like Brazil, that did not want to engage on a WTO waiver," a trade diplomat closely tracking the powerplay told The GIO, "they determined the narrative and successfully framed it as a moral issue," even before Biden moved into the White House.
Indeed, the issue kicked off in earnest in early October when India and South Africa proposed a temporary waiver in the WTO's Council for Trade-Related Aspects of Intellectual Property Rights (TRIPS) that would permit countries to suspend IP protections for COVID-19 medical products, including vaccines, medicines, diagnostics, PPEs, and ventilators, for the duration of the pandemic.
India and South Africa set the agenda in the WTO on what needs to be done and with persistent diplomacy put the US and other developed countries on the defensive. This, combined with effective advocacy from civil society, delivered the goods, a diplomat who requested anonymity told The G|O, and at last count, about 103 of the WTO's 164 members had lined up behind the proposal, which includes around 62 co-sponsors. "Good activism pushed for things to change and governments and institutions to get it right."
Diplomats and experts from trade and health alike all concede that civil society has helped enlighten the debate and change the mindset. "They effectively isolated the problem and went on the offensive, armed with technical expertise and an understanding of the multilateral system and its complexities," a senior civil society strategist told G|O.
As rich governments moved fast to lock in most of the COVID-19 vaccines in the pipeline with huge advance orders, and pharma companies—AstraZeneca excepted—showed no interest in calls by the World Health Organization (and others) to enter into voluntary licensing schemes to help ramp up global vaccine production, advocacy groups and poor countries feared the worse: a repeat of the HIV/AIDS crisis in the late 1990s and early 2000s, when they could not access the life-saving therapies as the epidemic ravaged many poor African countries.
The move in the WTO was, some diplomats say, an attempt to put the spotlight on the looming vaccine crisis—and it certainly galvanized the issue. A Geneva-based diplomat heavily engaged on the WTO waiver issue told The G|O, "What you see is a public campaign running very smoothly. Petitions are circulated in a friendly way—barring a few exceptions—with the focus on getting the WTO to agree to negotiate a waiver exception on the pandemic, which is bigger and more global than anything we have seen before on trade and health access."
"Civil society jumped in and pushed hard for WTO members to sit down and negotiate a waiver exception," recalls one senior Geneva trade diplomat who has seen the issue unfold from close up, during the pandemic reality of constant virtual diplomacy, adding:
"The stars were better aligned for civil society this time around, with a new administration in Washington and a new Director-General (Okonjo-Iweala) in the WTO who was very proactive from day one in trying to secure an equitable distribution of vaccines and life-saving medicines, and unafraid to put people from all sides in a room together."
"I think she is sincere and cares and is determined to get an outcome," is how one senior activist described Dr Ngozi, a Nigerian national. As a former Chair of the Board of GAVI, the Vaccine Alliance, Dr Ngozi is at ease in interacting with multiple civil society stakeholders and is familiar with their concerns.
Another big plus for civil society, sources say, is that in the current campaign over the waiver, besides the WTO's Okonjo-Iweala, two other African nationals with close links to civil societies and first-hand knowledge of their role are currently at the helm of multilateral health agencies—Dr Tedros Adhanom Ghebreyesus, Director-General of the World Health Organization, and Winnie Byanyima, UNAIDS Executive Director, and a former head of Oxfam International. Both have strongly and publicly voiced their support for the waiver initiative by India and South Africa as one of the tools needed to ramp up global vaccine production, and have also spoken out against the shocking imbalance in the global distribution of COVID-19 vaccines.
Civil society activists and African diplomats have lauded the political courage shown by Dr Tedros—who is up for re-election next year—who has put aside diplomatic speak, bluntly urging world leaders to move away from their pursuit of vaccine nationalism and to allocate more vaccines for the world's poorest.
"We know the volume of vaccines is nowhere near enough," Dr Tedros told a high-level emergency virtual meeting of African Ministers of Health on May 8, noting that so far, "Africa has administered 19.6 million doses, or 2% of the global total. Meanwhile, 80% of all doses administered globally have been in high and upper-middle-income countries."
"The inequitable distribution of vaccines is not just a moral outrage, it is also economically and epidemiologically self-defeating. I have said this many times. The gap is very tragic between the haves and have-nots," he declared.
As the WTO gears up to move into text-based negotiations on a TRIPS waiver, aiming to reach a draft agreement before the WTO Ministerial Conference in December, watch this space as civil society rallies more advocacy resources to counter an expected big pushback from the influential pharma industry to weaken any deal, sources said.
-JZ
---
Elsewhere in the ecosytem
The WHO Bergamo Files, continued…
Ranieri Guerra, WHO's senior adviser under investigation in Bergamo, has strongly denied lying to the Italian prosecutors investigating the withdrawal of a WHO report on Italy's preparedness for the pandemic. His defence is contained in a 40-page response and 495-page annex obtained by The G|O. His lawyer states that the prosecutors' allegations against his client paint a picture that is at variance with the reality of the facts and are above all "imprecise and don't adhere to the reconstruction of the events that Dr Guerra provided" when he testified last November.
The withdrawal of the report, after a few hours, from WHO's website occurred a year ago exactly (May 13). As readers of The G|O know, at this point there remain conflicting accounts as to why it was pulled. One of the most debated questions is the possible role that WHO's D-G Tedros Adhanom Ghebreysus might have had in suppressing the report, after a May 14 WhatsApp exchange from Ranieri Guerra surfaced, containing the message: "In the end I went to Tedros and got the document removed." In his defense, Guerra disputes the authenticity of the partial WhatsApp, also claiming the messages lack the necessary context to be understood and that, "Regardless, the content has no relevance with respect to the declared investigation."
In an email response to The Geneva Observer, WHO maintains that Dr Tedros "was not himself involved in the development, publishing, or withdrawal of the report"—a statement that Francesco Zambon, the former WHO researcher turned whistleblower who coordinated the writing of the report, continues to dispute.
"What did Tedros know? Everything," Zambon writes in Il Pesce Picolo, his book to be published tomorrow, May 13, date of the posting of the report on WHO's website. Expect another installment of The Bergamo Files next week.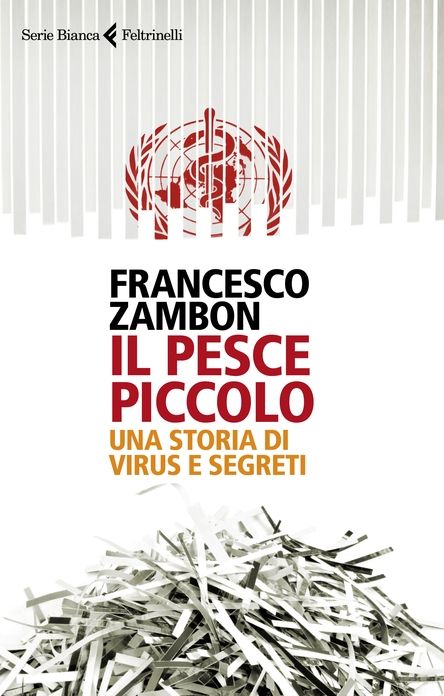 Where is home?
The Vienna-based King Abdullah Centre for Interreligious and Intercultural Dialogue (KAICIID) is looking to relocate. Closed by a decision of the Austrian parliament, the Saudi-Arabian funded centre has attracted controversy over the years, denounced by its critics as a Salafist front. According to reports in the Austrian press, KAICIID was considering Geneva as a new location. Contacted by The G|O, KAICIID told us by email that "negotiations are underway with a number of countries which have expressed an interest in hosting the Centre."

The Swiss Government for its part tells us that while aware of KAICIID's plan to relocate, "there are no ongoing discussions with the Centre."
-PHM
---
Today's Briefing: Philippe Mottaz - John Zarocostas - Jamil Chade
Edited by: Paige Holt

---