#81, The G|O Briefing, January 13, 2022
How news coverage influences countries' emergency aid budgets - Geneva diplomats' take-aways on Ukraine meeting - Like forecasts? We have 73 for you!
Subscribe
This is an onsite, slightly edited republication of the complete G|O Briefing newsletter
---
Today in The Geneva Observer: Does press coverage influence the levels of funding for humanitarian aid? The short answer is yes, but it is obviously much more complex than that, as the three authors of a new academic study explain in their piece below. No doubt that their findings will be of interest in the humanitarian capital of the world. They might have important implications for government donors, aid agencies, and the media itself.

This, while on Tuesday (January 11), Martin Griffiths, UN Under-Secretary-General for Humanitarian Affairs and Emergency Relief Coordinator, and Filippo Grandi, UN High Commissioner for Refugees, shared the stage in Geneva to ask donors for US$4.4 billion in humanitarian aid for Afghanistan in 2022. The appeal, they told reporters earlier, was the largest ever destined to a single country. It amounts to about a quarter of Afghanistan's last estimated GDP.  According to Griffiths, the aid package is an "essential stopgap measure" to prevent massive suffering in the country, including hunger. Griffiths insisted that it had been "calibrated" to ensure that it would go directly to the Afghan people and not to the authorities.

But the commitment might prove to be difficult to secure. According to Reuters, shortly after the launch of the UN appeal, the Taliban announced that they wanted a joint body to be set up to coordinate the planned aid, a way for the government to ensure it would have direct access to the funds.
Geneva-based diplomats share their take-away from the US-Russian dialogue with The G|O
With Monday's (January 10) US-Russian strategic dialogue over Ukraine, diplomacy took center stage, and Geneva played its traditional role. High-stakes diplomacy not only commands the attention of the world, but for diplomats, it also provides rich real-life examples that can be studied and analyzed. In this latest instance, seen from the ground— and admittedly from a Western perspective—Geneva-based diplomats tell The G|O's Jamil Chade that the dynamics of the bilateral discussions between Moscow and Washington replicated one that they often see at play here in the multilateral arena. An observation which reminds us that International Geneva offers an unrestricted view and, for its practitioners, a hands-on experience of what Mark Leonard, Chairman of the European Council on Foreign Relations, calls the "age of unpeace," an age where "rising tensions in global politics are not a bump in a road but part of the paving."
2022: Expect a busy year for International Geneva
To quote Leonard again, "the past few years have seen a return of great power politics playing on the backdrop of near-paralysis in international cooperation around global issues such as climate change, pandemic response." We would add trade.

This reality is palpable here. How it will impact the current system is still hard to say, as the global situation is in flux. Will we see further fragmentation and polarization within international organizations? With ongoing reforms at the World Health Organization (WHO) and at the World Trade Organization (WTO), with two upcoming consequential elections at the International Telecommunications Union (ITU) and at the International Labour Organisation (ILO), it is safe to predict that 2022 will be once again testing International Geneva's ability not only to remain relevant but also to fulfill the promise of "building back better."

-PHM
---
UKRAINE: A CLASH LONG IN THE MAKING
By Jamil Chade
You need to go back in history to understand what happened in Geneva last Monday (January 10) when Russians and Americans met for eight hours. The tension between the two sides was predictable. Read Vladimir Putin's major address at the Munich Security Conference in 2007 and you have a list of all the current sticking points underlying the difficult discussion between Washington and Moscow. The speech helps to understand the fundamental lack of trust among the parties involved.

When asked by a journalist whether she trusted the Russians, the head American negotiator Wendy Sherman answered that she "generally doesn't approach this kind of situation on the basis of trust." This "situation" includes the presence of an estimated 100,000 Russian troops near the Ukrainian border.

In a world marked by deep mutual distrust between the great powers, that such meetings even take place has to be seen as an accomplishment. Both sides recognized as much, even if it didn't mark the beginning of a formal negotiating process. "This was not a negotiation, so we were putting ideas on the table today. And we have a long way to go," Sherman insisted.

Seasoned observers of the international scene in Geneva tell The G|O that this cautious front shows that it is not clear to the Americans or the Europeans if Vladimir Putin intends to negotiate. One senior diplomat from a NATO country conceded that it is Putin who is forcing NATO into introspection and giving new life to an idea openly expressed by Emmanuel Macron when he declared the alliance "brain dead."

Also speaking to The G|O under the rules of non-direct attribution, a Western diplomat saw in the Russian approach a tactic that has become customary here: propositions known to be unacceptable are tabled with the intention of either slowing down discussions or driving wedges within the Western bloc. "It's a kind of crisis diplomacy that we see at work in numerous fora here, from the Human Rights Council to the Conference on Disarmament," the diplomat said.
---
How news coverage influences countries' emergency aid budgets – new research
By Martin Scott, Kate Wright and Mel Bunce*
The news media cover humanitarian crises selectively. Events associated with clear, dramatic imagery, such as the 2020 Beirut port explosion, often receive intense global news coverage. By contrast, protracted humanitarian crises that are more difficult to access and explain to audiences, such as the civil war in Yemen that has been raging since 2014, are often scarcely reported – even if the level of need is far greater.
This matters, we often assume, because media attention influences how governments allocate humanitarian aid. Specifically, it appears to help explain why some UN appeals for humanitarian aid are almost fully supported – such those for Iraq (92% of the UN target) and Lebanon (84%) – while others receive a fraction of the required funding, such as the crises in Venezuela (24%) and South Sudan (10%).
This assumption has been fuelled by previous research identifying clear correlations between the amount of news coverage a crisis receives and government aid allocations. For example, one study of US foreign disaster assistance showed that every additional news story in the New York Times about a disaster was associated with an additional aid allocation of half a million dollars.
But does news coverage really make a material difference to the amount of humanitarian aid a crisis receives? Or are we confusing correlation with causation? At a time when donor funding is failing to keep pace with rapidly escalating levels of humanitarian need, these are important questions. The answers can help ensure humanitarian assistance gets to where it is most needed.
Responding to crises
To answer these questions, our team of researchers from the University of East Anglia, City, University of London and the University of Edinburgh interviewed 30 senior bureaucrats tasked with making policy about the allocation of humanitarian aid. They worked for 16 governments representing democratic countries with the largest humanitarian aid budgets. The results have recently been published in Journalism Studies.
The bureaucrats we interviewed said that, in some circumstances, sudden and intense news coverage did increase levels of humanitarian aid – regardless of whether or not the crisis merited it. This was the case in the 2020 Beirut explosion, as one policymaker told us:
We have a very limited [humanitarian aid] budget and … normally, as a middle-income country, Lebanon would not have featured on it … But the widespread level of … media interest in it… [meant we] made the call early to … make a reasonably sized contribution.
Other examples our respondents gave of media coverage increasing official aid included the 2015 Rohingya refugee crisis and the 2015 Nepal earthquake.
Our interviewees then explained how news media influenced them, by triggering the public, civil society organisations – and especially elected officials, who then put pressure on government ministries to announce additional funding. As one interviewee explained:
If something becomes a big media issue, all of a sudden, right through the system, people just start asking questions about it… So, there [is] a real pressure to be able to say: 'this is how we responded'.
Immediate and intense news coverage was especially influential. In these circumstances, bureaucrats had little time to prepare a defence of why they weren't supporting an additional response to the crisis.
But interviewees stressed that mainstream national news outlets were the most important influencers – rather than social media or international news outlets such as CNN or the BBC. As one interviewee explained:
National media [matters]… for our politicians. They are elected [here] so … usually what matters is their publicity in [this country], how popular they are [here] … It's media that reaches the larger public.
For this reason, we characterise these instances of media influence over humanitarian aid as a "sudden-onset, national news" effect.
Only in case of emergencies
Yet, this effect only appeared to influence governments' relatively small "emergency" humanitarian aid budgets. According to our interviewees, their annual humanitarian aid allocations – which are much larger and allocated to longer-term, protracted crises – are unaffected by news coverage. This was because the longer lead-in time involved in annual aid allocations meant that bureaucrats were able to respond to ministers' publicity-related concerns. They did this via planned, strategic communications to explain the aid allocations, rather than by adjusting them.
But this doesn't mean the news media are not a factor in bureaucrats' decision-making about annual aid budgets. Some bureaucrats saw a lack of news coverage of certain crises as an indication that they should give more to these "forgotten crises", such as in Myanmar and the Sahel.
This was because these bureaucrats assumed that other governments would be more influenced by news coverage than they were. They told us, therefore, that they tried to compensate for what they believed would be a distortion in other governments' funding practices, due to a lack of news coverage. We term this the "forgotten crisis effect".
Why this matters
For aid agencies seeking to influence donor countries via the news media, these findings suggest that effective action is likely to involve generating intense, sudden-onset coverage via national news outlets. Effective action will also probably involve targeting governments with publicity-seeking ministers and larger emergency aid budgets.
By contrast, if government departments wish to resist the influence of media and defend their needs-based decision-making, they should consider building stronger public (and ministerial) understanding of humanitarian principles and more transparent, evidence-based allocation methodologies. Contributing, in advance, to pooled, flexible funds such as the UN's Central Emergency Response Fund also allows aid bureaucracies to be seen to be responding, without having to make ad hoc allocations.
Our research also suggests that government policymakers might rethink how and why they allocate funding to "forgotten crises", based on an absence of news coverage. Other governments' annual allocations are not necessarily influenced by news coverage, and may indeed be following similar funding principles, so in seeking to correct an imbalance or distortion in funding, they may well be creating one.
---
*Martin Scott, Senior Lecturer in Media and International Development, University of East Anglia; Kate Wright, Academic Lead of Media and Communications Research Cluster, University of Edinburgh, and Mel Bunce, Head of the Journalism Department, City, University of London
This article is republished from The Conversation under a Creative Commons license. Read the original article.
---
FINALLY, LET'S MAKE THINGS EASIER FOR YOU

This is the time of year for trends and predictions. Like us, you are probably drowning in them. Well, Spacecadet, a New York investing firm, had the good idea to collect forecasting trends from 73 different organizations. From trends in technology to graphic design and more, most of them have nothing to do with International Geneva. But then G|O readers know we believe everything ends up being discussed here. Anyway, if you enjoy serendipity as much as we do, just click here and enjoy the ride.
---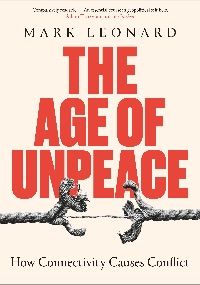 ---
That's it for this week. From all of us, or almost all of us (thanks to Omicron, which seriously tested our ability to produce this Briefing), thank you for reading. All the best, and see you here next week.
---
Today's Briefing: Philippe Mottaz - Jamil Chade
Editorial Assistant: Ciara O'Donoghue
Edited by: Dan Wheeler

---